Flourless Microwaveable Chocolate Mug Cakes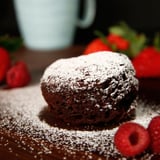 Ingredients
1/2 cup mini chocolate chips
2 tablespoons unsalted butter
1/2 teaspoon vanilla extract
1 egg
2 tablespoons granulated sugar
1/8 teaspoon salt
1 1/2 teaspoons cocoa powder
Confectioners' sugar and fresh berries, for garnish
Directions
Set aside about 2 tablespoons of the chocolate chips for later. Melt the remaining chocolate in the microwave in 30-second intervals for 1-2 minutes or until it's completely melted. Add the butter and vanilla extract, and keep mixing until it's thoroughly melted and smooth. Let it cool slightly.
Whisk egg, then gradually add in granulated sugar and salt and whisk until it becomes thick and pale yellow, about 5 minutes. Fold in cooled chocolate mixture, then sift cocoa powder over top. Gently fold mixtures together until no streaks remain. Finally fold in remaining chocolate chips.
Divide batter between 2 mugs. Microwave until tops are just firm to touch and centers are gooey when pierced with toothpick, about 2 minutes. Carefully remove mugs from the microwave (use a towel or oven mitt). Dust with confectioners' sugar, and serve warm with berries.
Information
Category

Desserts, Cake

Yield

2 chocolate cakes