Food Network Chicken Noodle Soup Recipes
This Is How All Your Favorite Food Network Stars Make Chicken Noodle Soup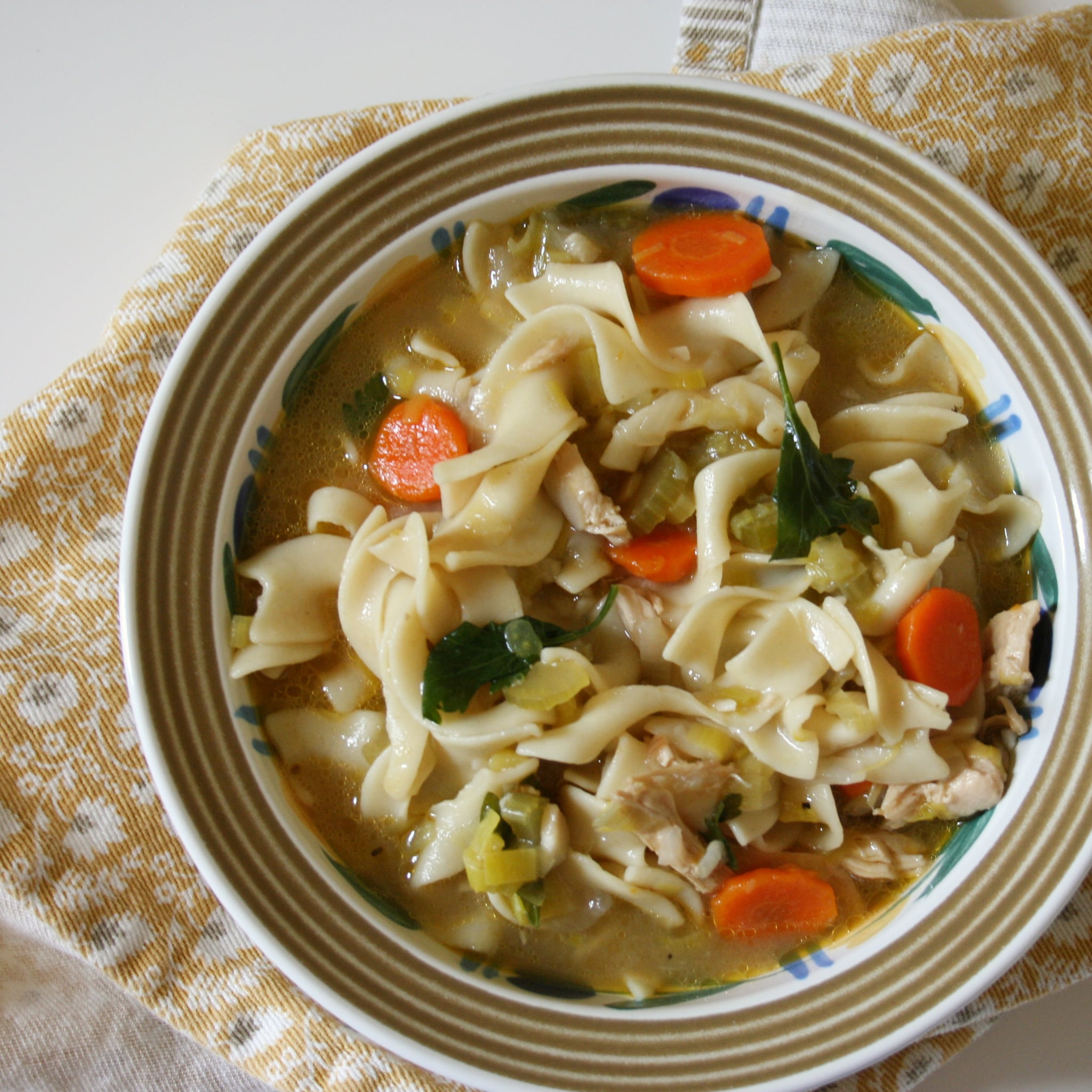 It's hard to screw up classic chicken noodle soup. But whether you're making it for the first time ever or are a seasoned pro looking to switch it up a bit, look no further than these popular recipes from some of our favorite Food Network hosts. Paula Deen adds a creamy touch, Tyler Florence goes the extra mile with homemade stock, and — naturally — Giada puts an Italian spin on the traditional soup. Keep the chill away and cozy up to a steaming bowl of comfort food, courtesy of the following pros.
Tyler Florence: Make Your Own Stock
Tyler Florence doesn't cut any corners, and especially not when it comes to chicken noodle soup. The homemade stock in Tyler Florence's chicken noodle soup is what sets this soup way, way above a canned version. Don't be intimidated — all you need is a whole chicken, a few fresh vegetables, and herbs, and you've got homemade stock for a batch of this soup and beyond.
Paula Deen: Don't Skip on the Cream
There's no shame in adding a little fat to chicken noodle soup, making it creamier and even more comforting. Paula Deen's chicken noodle soup calls for heavy cream, parmesan, sherry, and mushrooms, so it's a bit more bulked up than the traditional brothy soup you're probably used to. Served with crusty French bread for dipping, it's the ultimate wintertime comfort food.
Giada De Laurentiis: Swap Spaghetti
You know Giada is going to put an Italian spin on just about anything, especially anything with the word "noodle" in it. Instead of egg noodles or small pasta, Giada's chicken noodle soup calls for spaghetti broken up into two-inch pieces. Giada also recommends adding a parmesan rind (the rind adds tons of flavor), lemon juice, and grated Romano cheese.
Alton Brown: Add an Aromatic Herb
Sure, you're used to thyme and parsley in chicken noodle soup, but try Alton Brown's chicken noodle soup with finely chopped tarragon. The aramotic, anise-like herb adds an incredible depth of flavor that will leave you slurping up spoonful after spoonful.
Rachael Ray

: Chop Parsnips

Along with the classic mirepoix of onions, carrots, and celery, Rachael Ray's quick chicken noodle soup calls for an unexpected vegetable: parsnips. The root vegetable adds substance and subtle flavor and pairs perfectly with the rest of the diced veggies.
Anne Burrell: Sprinkle Cinnamon and Nutmeg
When you're feeling really creative and need something out of the box, try Anne Burrell's chicken noodle soup. With ingredients you'd never expect — cinnamon, nutmeg, chickpeas, and cilantro — this isn't your average chicken noodle soup, but in a good way. The recipe has a five-star rating for a reason, and people can't get enough of the spiced, soul-warming soup.
Image Source: POPSUGAR Photography / Anna Monette Roberts