Frappuccino No-Bake Cheesecake
Frappuccino No-Bake Cheesecake
From Nicole Iizuka, POPSUGAR Food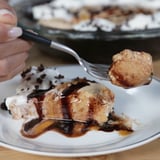 Ingredients
24 Oreo cookies
1/4 cup butter, melted
1/4 teaspoon salt
16 ounces (2 blocks) cream cheese, softened
1/2 cup sour cream
1 cup powdered sugar
1/4 cup cold-brew coffee
1/4 cup heavy whipping cream
2 tablespoons espresso powder
1/2 teaspoon vanilla extract
To garnish:
Chocolate sauce
Caramel sauce
Whipped cream
Chocolate shavings
Directions
Place cookies in a food processor and process until it's a very fine crumb, almost sandlike in texture. Remove from the processor and mix in melted butter and salt until combined. The mixture should be able to hold together with a little pressure. Pour the crust into a pie dish and mold the crust into the pie dish, pushing the edges up the sides to the top of the pan. Place crust in the refrigerator for 15 to 20 minutes, or until firm.
While the crust is setting, in a large bowl use an electric mixer to whisk together cream cheese, sour cream, powdered sugar, cold brew, heavy whipping cream, espresso powder, and vanilla extract until combined and smooth. Pour the filling into the pie crust and smooth the top. Cover with plastic wrap and return to the refrigerator for another hour to set.
To serve, remove from the refrigerator and garnish with chocolate sauce and caramel sauce, whipped cream, and chocolate shavings.
Information
Category

Desserts, Cake

Yield

Serves 8-10

Total Time

1 hour, 59 minutes, 59 seconds