Fruity Pebbles Twinkies
Brandi Milloy, POPSUGAR Food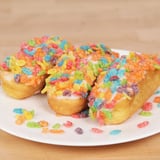 Ingredients
For the cake:
1 box yellow cake mix
1 cup water
1/3 cup vegetable oil
3 eggs
For cereal milk:
1/4 cup Fruity Pebbles cereal
1/2 cup milk
For cereal milk filling:
1/2 cup butter, room temperature
1 cup marshmallow fluff
1 cup powdered sugar
1 teaspoon vanilla extract
Pinch of salt
3 tablespoons of cereal milk
1 cup Fruity Pebbles cereal
For outer coating:
3/4 cup powdered sugar
2 tablespoons cereal milk
1 cup Fruity Pebbles cereal
Directions
To make the cake: Prepare the yellow cake batter according to instructions on the box.
Fill the molds 1/2 full with batter, and bake according to box instructions (use the instructions provided for cupcakes), or until the cakes are light golden brown and spring back to the touch. Allow them to cool completely.
To make the cereal milk: Preheat oven to 350°F and toast cereal for 8 to 10 minutes. Cool and then add the cereal to milk and weigh down with another bowl or plate to submerge. Let soak for 2 minutes, or until the cereal is soggy. Strain through a fine mesh strainer.
To make the filling: Whisk together butter, marshmallow fluff, powdered sugar, vanilla extract, and salt, and a 3 tablespoons of the cereal milk. Crush up 1 cup of Fruity Pebbles cereal and fold into the mixture. Fit a piping bag with a narrow metal tip. Fill it with the frosting.
To assemble: For each Twinkie, insert the metal tip of the pastry bag about halfway into the bottom of the Twinkie and squeeze in filling until it's flush with the cake. (Be careful to not overfill.) Repeat twice more across the bottom of each cake, and then with the entire batch.
Fill a bowl with Fruity Pebbles cereal. In another bowl, combine powdered sugar and remaining cereal milk and mix together until a glaze is formed. Coat the top of the Twinkie in the glaze and roll in Fruity Pebbles cereal. Enjoy immediately!
Information
Category

Desserts

Yield

8 servings

Total Time

59 minutes, 59 seconds