Funfetti Sugar Cookie Cake
Funfetti Sugar Cookie Cake
From Alyssa Noui, POPSUGAR Food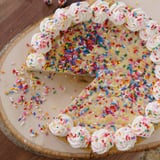 Ingredients
For the cookie:
Nonstick cooking spray
1/2 cup unsalted butter, softened
3/4 cup granulated sugar
1 large egg plus 1 egg yolk
2 teaspoons vanilla extract
1 1/2 cups all-purpose flour
1/4 teaspoon salt
1 teaspoon baking powder
1/2 teaspoon baking soda
1 1/2 teaspoons cornstarch
1/4 cup chocolate chips
1/2 cup rainbow sprinkles, plus more for topping
For the buttercream:
1/2 cup unsalted butter
1 1/2 cups sifted powdered sugar
1/2 teaspoon vanilla extract
1 tablespoon heavy whipping cream
Directions
To make cookie cake: Preheat oven to 350°F. Spray a 9-inch pie dish or cake pan with nonstick spray. Set aside.
In a large bowl using a stand mixer fitted with a paddle attachment, cream the softened butter for about 1 minute on medium speed. Get it nice and smooth, then add the sugar on medium speed until fluffy and light in color. Beat in egg, egg yolk, and vanilla. Scrape down the sides as needed.
In a medium bowl, whisk together the flour, salt, baking powder, baking soda, and cornstarch. With the mixer running on low speed, slowly add the dry ingredients to the wet ingredients in 3 different parts. The dough is quite thick. Once combined, gently fold in the white chocolate chips and sprinkles using a rubber spatula.
Press the cookie dough evenly into the prepared pan. At this point you may sprinkle additional sprinkles on the top of the cake. Bake for 25-30 minutes or until very lightly browned on top. You want the cookie cake to be extrasoft in the center, so be careful not to overbake.
Allow the cake to cool completely on a wire rack at room temperature before frosting. The center will slightly sink. Carefully tip over the cake pan, and the cake should come out easily. If not, run a knife around the edge to help loosen.
To make buttercream: In a stand mixer on medium-high with the paddle attachment, cream butter until fluffy. Turn speed to low and gradually add sugar. Once combined, turn back up to medium-high until light and fluffy. Add vanilla, and then add cream. Fill pastry bag with piping tip.
Frost completely cooked cookie with buttercream, and garnish with even more sprinkles.
Information
Category

Desserts, Cookies

Yield

8 to 12 servings

Total Time

44 minutes, 59 seconds