Geode Cookies | Food Video
DIY Easy Geode Cookies
We have been falling in love with the geode trend in desserts for a while, but most of the geode cookies we saw out there require a ton of frosting technique and we wanted to make these foolproof. So we have an easy slice-and-bake version that will give you the gorgeous designs you want without all of the work. Enjoy!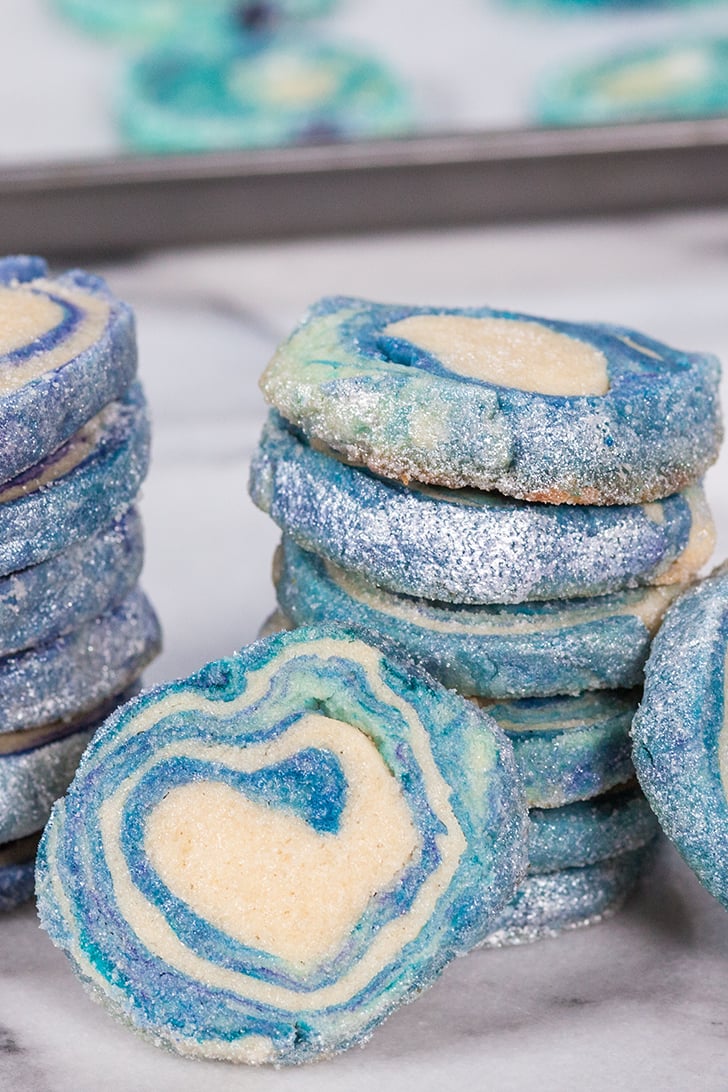 Geode Cookies
From Skylar Thomson, POPSUGAR Food
Notes
The vodka evaporates immediately, but if you are concerned, swap vodka with water. Use 1 teaspoon water with the luster dust.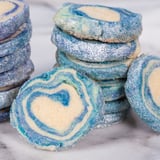 Ingredients
For the cookies:
1 1/2 cups all-purpose flour
1/8 teaspoon fine salt
1/3 cup powdered sugar
1/4 cup granulated sugar
1/4 teaspoon baking powder
1 1/2 sticks unsalted butter, chilled
1 teaspoon clear vanilla extract
1/2 teaspoon lemon juice
1 egg white
Teal and violet gel food coloring
White sparkling sugar
For the glaze:
1 tablespoon plus 2 teaspoons vodka
1 tablespoons corn syrup
1/2 teaspoon gray luster dust
Directions
Place flour, salt, powdered sugar, granulated sugar, and baking powder into a food processor and pulse until combined. Add cold butter in batches and pulse until it achieves a sand-like texture.
Add the vanilla, lemon juice, and egg white and pulse until the mixture forms a ball.
Remove half of the mixture, form it into a disk, wrap it in plastic wrap, and chill for about 20 minutes until firm.
Add a pea-size amount of each gel food coloring to the remaining dough in the food processor and pulse until just combined. The dough should look swirled like marble. Be careful not to overmix the dough at this point.
Form the marbled dough into a disc, wrap in plastic wrap, and chill for at least 20 minutes until firm.
Remove dough from the refrigerator and divide both discs in half, leaving you with 4 sections of dough. Roll the 2 colored sections into a 12- x 5-inch rectangle, about 1/4 inch thick, and set aside. Repeat with half of the plain dough.
With the remaining half of the plain dough, form a log about 1 inch thick and 12 inches long and set aside. Beginning with a colored layer, stack the rolled-out dough rectangles on top of each other, brushing each layer lightly with water to help them stick. Once you have a stack of the 3 doughs (colored, plain, colored), then place the plain dough log in the center lengthwise.
Working lengthwise, roll the dough sheets over the plain dough log and pinch the dough together along the seam to form an imperfect log. The imperfections in shape will create a more realistic look. Place the log in the freezer for about 1 hour.
Preheat oven to 325ºF and line a rimmed baking sheet with parchment paper. Slice the log into 1/4-inch sections. Roll the edges of each cookie in sanding sugar and place on prepared baking sheet. Press more sanding sugar into the center of each cookie to create a rocky effect.
Bake the cookies for about 15-20 minutes or until just slightly golden and firm. Let cool.
While the cookies cool, combine the corn syrup and 2 teaspoons of vodka until corn syrup is dissolved. Once the cookies are cooled, using a pastry brush, brush each geode cookie with the glaze and let set.
Combine the remaining vodka and luster dust in another small bowl and brush the edges of each cookie. Let both glazes dry.
Cookies can be stored in an airtight container for up to 3 days! Enjoy!
Information
Category

Desserts, Cookies

Yield

Serves 10-12

Total Time

2 hours, 59 minutes, 59 seconds