Giant Burger Recipe
This Is the Burger Your BBQ Has Been Missing
Yes, we really went there: this is a three-pound burger, and you need it in your life. It's no secret that supersized foods are better than their regular counterparts, and that's especially true when it comes to burgers. Instead of making individual cheeseburgers at your next cookout, serve up this giant one perfect for sharing.

Giant Burger
From Nicole Iizuka, POPSUGAR Food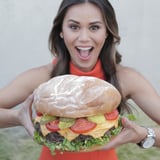 Ingredients
For the burger:
3 pounds ground beef 93% lean
1/4 cup chives, diced
1 cup breadcrumbs
3 eggs
1 teaspoon salt
1 teaspoon pepper
For the sauce:
1 tbsp. butter
2 tbsp. mayonnaise
2 tbsp. ketchup
1 tbsp. mustard
1 tbsp. relish
For garnish:
7 slices American cheese
1 7" shepherd's bread boule
5 pieces lettuce
2 tomatoes, sliced
15 pickle chips
Directions
Preheat oven to 350ºF.
To make burger: In a large bowl mix together ground beef, chives, breadcrumbs, eggs, salt, and pepper until combined. Form into a large 8" across patty and place on a wire rack over a sheet tray. Bake for 50 to 60 minutes or until the burger is cooked through.
Meanwhile, to make sauce: Mix together mayonnaise, ketchup, mustard, and relish.
Remove burger from oven and cover with cheese. Return to the oven for a few minutes just until the cheese is melted.
While the burger is cooking, slice bread boule in half and brush the inside with butter. Place in the oven and toast until warmed through.
Assemble burger with bread boule covered in sauce, lettuce, burger patty with cheese, tomatoes, pickles, avocado slice, and top bun.
Enjoy warm!
Information
Category

Main Dishes, Beef

Yield

8 to 10 Servings

Total Time

1 hour, 14 minutes, 59 seconds