Giant Pancakes
The True Spoon
Notes
Rotate paella pan if batter looks like it's cooking unevenly during step 5.
Very slowly slide pancake onto pizza pan; a pancake this large cracks ridiculously easily.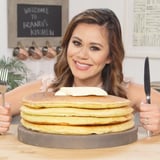 Ingredients
6 eggs
6 tablespoons granulated sugar
1/2 teaspoon salt
1 stick unsalted butter, softened
2 1/2 cups milk
4 cups all-purpose flour
2 teaspoons baking soda
6 teaspoons baking powder
2 oversize pats of butter for topping
1 pitcher of syrup
Special equipment: 15-inch paella pan
Directions
Whisk eggs in a large bowl. Whisk in sugar, salt, butter, and milk until well-combined.
Stir in flour, baking soda, and baking powder until well-combined; batter will be medium thickness and creamy in consistency.
Heat a 15" nonstick paella pan to low heat across two burners, spray pan with cooking spray, pour 2 cups of batter into the pan, and distribute evenly over the pan with a spatula. Cook pancake for 7 minutes or until the bottom is golden brown.
Loosen all sides of the pancake with spatula, and slide into a 15" or larger pizza pan. Flip pancake back onto the pan on low, and cook for an additional 7 minutes.
Transfer pancake to a plate and repeat for one more pancake. Stack pancakes, and top with butter and syrup.
Information
Category

Pancakes/Waffles

Yield

2 giant pancakes

Total Time

19 minutes, 59 seconds