Giant Pizza Slice
From Alyssa Noui, POPSUGAR Food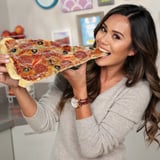 Ingredients
1 1/2 pounds pizza dough
1 tablespoon cornmeal
1/2 cup pizza sauce
2 cups shredded mozzarella
Toppings of your choice like pepperoni, green bell pepper slices, and black olives
Directions
Preheat oven to 475ºF.
Let dough sit at room temperature on a lightly floured surface for 30 minutes.
Sprinkle work surface with cornmeal, and using a rolling pin, roll dough into an 11-by-15-inch rectangle about 1/4 inch to 1/3 inch thick. Carefully place dough onto a lightly greased baking sheet.
Leaving a 1 1/2-inch border on one of the shorter sides, top the pizza dough with pizza sauce, mozzarella, and the toppings of your choice. Bake for 12-15 minutes or until the crust is golden brown and the cheese is melted.
Using a pizza wheel or a very sharp knife, starting at the middle of the nonbordered 11-inch side of the pizza, cut the pizza to the outer corner of the edge with the border. Repeat on the other side to create a giant pizza slice.
Information
Category

Pizza

Yield

2-4 servings

Total Time

59 minutes, 59 seconds