Gingerbread and Lemon Thyme
Step Up Your Gingerbread Game With This Lemon Thyme Parfait Dessert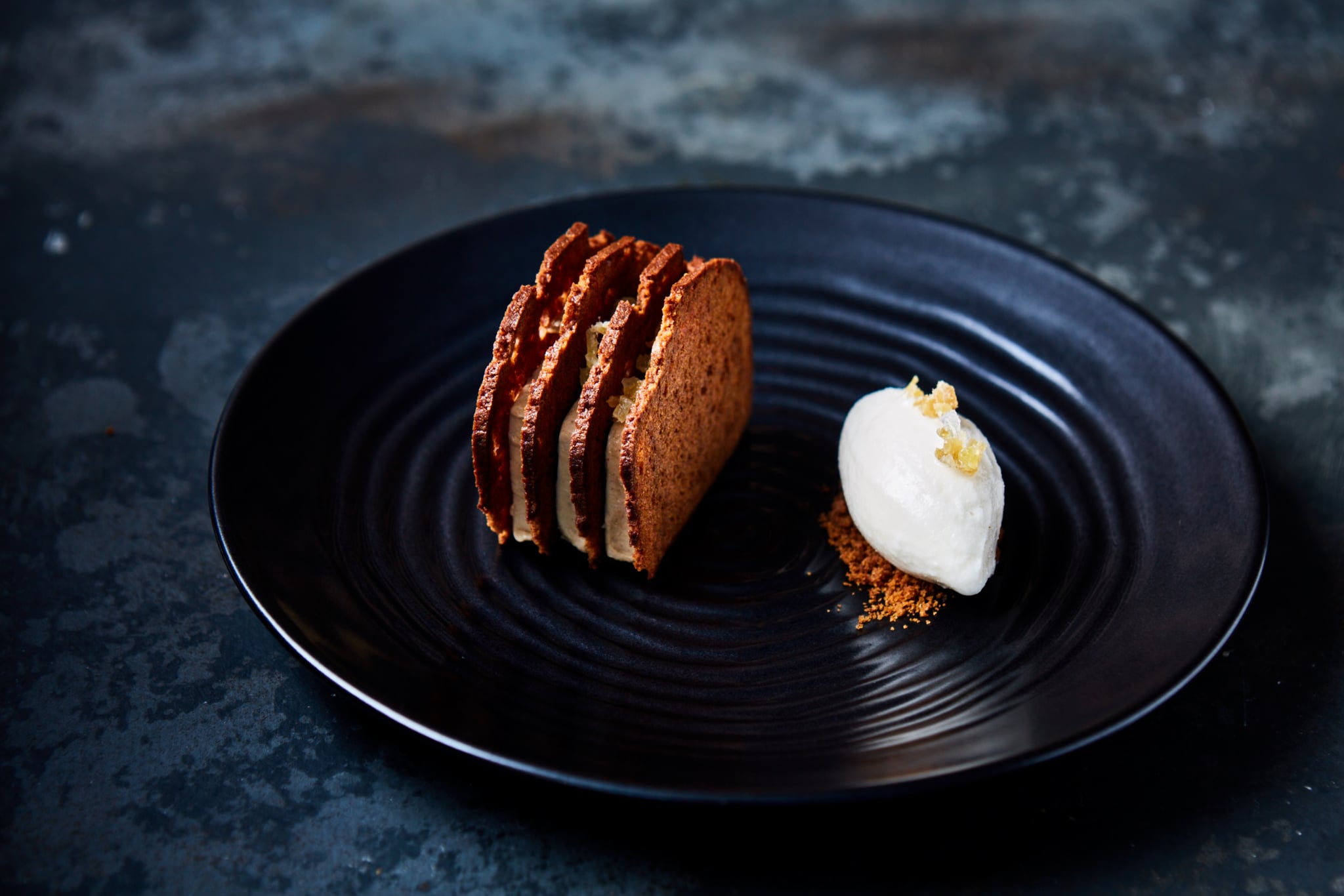 Dubai restaurant,folly by Nick & Scott, shares the recipe for their popular Gingerbread and Lemon Thyme dessert.
Gingerbread and Lemon Thyme
folly by Nick & Scott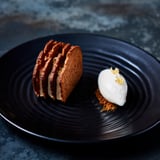 Ingredients
FOR THE GINGERBREAD AND WAFERS:
400g unsalted butter
300g castor sugar
300g castor sugar
3 whole eggs
450g full fat milk
450g maple syrup
3 tsp baking soda
840g plain flour
8 tsp ginger powder
8 tsp cinnamon powder
FOR THE GINGERBREAD PARFAIT:
200g gingerbread
200g whipping cream
80g egg yolks
50g castor sugar
40g water
60g egg white
300g whipping cream (half whipped)
8g gelatin leaves
FOR THE LEMON THYME PARFAIT:
250g lemon juice
12g lemon thyme
150g sugar
35g glucose
6g super neutrose
400g water
80g Egg yolk
FOR THE CRYSTALIZED GINGER:
100g ginger root
120g sugar
Directions
FOR THE GINGERBREAD AND WAFERS:
In a dough mixer cream the eggs and sugar until light and fluffy, then add eggs, milk and syrup, finally add the other ingredients and finish mixing by hand, pour the mixture into parchment lined bread tins and bake at 175 degrees Celsius for 30 minutes. When cooled chill the loaf for 12 hours.
Cut the loaf in half and very finely slice 1.5mm thick wafers (best on a meat slicer), place wafers on a baking sheet lined with parchment and one more tray on top to press the bread flat, bake at 180 degrees for 7-10 minutes until dried and crispy.
FOR THE GINGERBREAD PARFAIT:

Soak gelatin in iced water, blend gingerbread to fine crumbs in a food processor, bring up to the boil with 200g of cream, blend in a bar blender to make a smooth puree, in a mixer whip the egg yolks on full power, while whipping the yolks bring the sugar and water to the boil and with a sugar thermometer take the sugar to 121 degrees Celsius (soft ball), slow the machine to slowest setting and very carefully add the sugar to the yolks (to make a pate a bombe), turn to medium speed and when you can feel the base of the mixing bowl has cooled down then turn off and remove the bowl.
Remove pate a bombe and keep in a separate bowl, clean the mixer bowl and re-set adding the egg whites, and then whip on full power until light and fluffy, whilst whipping, by hand whip the cream until it is half whipped (ribbon stage).
With the four different bowls (egg whites/yolks/gingerbread puree/half whipped cream) in the bread puree bowl add the whipped yolks, then gradually add the whites and then finally fold in the cream slowly (DO NOT WHISK IT IN AS THE AIR WILL BE KNOCKED OUT).
Pour into lined bread tin and freeze for 12 hours.
FOR THE LEMON THYME PARFAIT:

In a pan bring up to simmer, lemon juice and thyme, 100g sugar, glucose, neutrose and 300g of water, remove and cool.
Over a bain marie whip the yolks and 50g of water, in a pan boil 50g sugar and water to soft ball, when eggs light and fluffy pour in the sugar and whisk, remove from heat and whisk until cooled down.
Fold all ingredients together and leave at room temperature, making sure all is evenly mixed, pour into pacojet beaker and freeze for 12 hours.
FOR THE CRYSTALIZED GINGER:

Peel the ginger and cut in to 3mm thick batons, bring up to the boil in fresh water and drain 4 times.
Cut the ginger into dice and In a pan add sugar and ginger melting the sugar and then take it to 120 degrees Celsius.
With a fork remove the ginger pieces and spread onto a piece of parchment, leave at room temperature to dry for 6 hours.
Information
Category

Desserts

Yield

10