Girl Scout-Inspired S'mores Cookie
Girl Scout-Inspired S'mores Cookie
Girl Scout-Inspired S'mores Cookie
From Heather Platt, POPSUGAR FOOD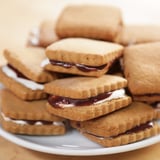 Ingredients
For the cookies:
1 3/4 cups graham cracker crumbs
1 cup all-purpose flour, plus extra for sprinkling when rolling out dough
1/4 cup whole-wheat flour
1/4 cup granulated sugar
1/4 cup packed brown sugar
1/2 teaspoon baking soda
1/4 teaspoon baking powder
1/2 teaspoon kosher salt
1/4 teaspoon cinnamon
1/2 cup unsalted butter, cut into 1/2-inch cubes
1 egg
1/2 teaspoon vanilla extract
1/4 cup molasses
1/4 cup whole milk
For the ganache:
1 cup heavy whipping cream
1 1/2 cups milk chocolate
For the marshmallow fluff:
2 cups mini marshmallows
1 tablespoon light corn syrup
Directions
Preheat oven to 350ºF.
In a food processor, combine graham cracker crumbs, flours, sugars, baking soda, baking powder, salt, and cinnamon and pulse until a powder forms. Add butter and pulse again until combined. Be careful to not overmix the dough. Add egg, vanilla extract, molasses, and whole milk and pulse once more until fully combined.
Remove the dough and form it into a disk, covering it in plastic wrap. Refrigerate for 35 minutes.
Sprinkle large surface with flour and roll out the chilled dough until 1/4-inch thick. Cut out the cookies with a rectangular scalloped-edge cookie cutter. Place them on a parchment-lined baking sheet and bake for 17 minutes, or until the cookies are cooked through and slightly golden brown on top.
To make ganache: In the microwave, heat up heavy whipping cream for 1 to 1 1/2 minutes or until small bubbles begin to form. Pour cream over chocolate and let sit for 3 to 5 minutes. Once the chocolate is melted, give the ganache a quick stir and let cool in the freezer for 10 minutes.
To make marshmallow fluff: In a double boiler, add mini marshmallows and heat until almost fully melted. Stir in corn syrup and keep mixing until smooth. Place in a bowl and set aside.
Once the cookies have cooled, you are ready to assemble. On one cookie, spread a layer of the chocolate. On another cookie, spread a layer of the marshmallows. Put the two cookies together and enjoy!
Information
Category

Desserts, Cookies

Yield

12 sandwich cookies

Total Time

39 minutes, 59 seconds