Gluten-Free Sweet Potato Fries with Peanut Sweet Chili Sauce
Your Gluten-Free Snack is Sorted With Sweet Potato Fries and Peanut Sweet Chili Sauce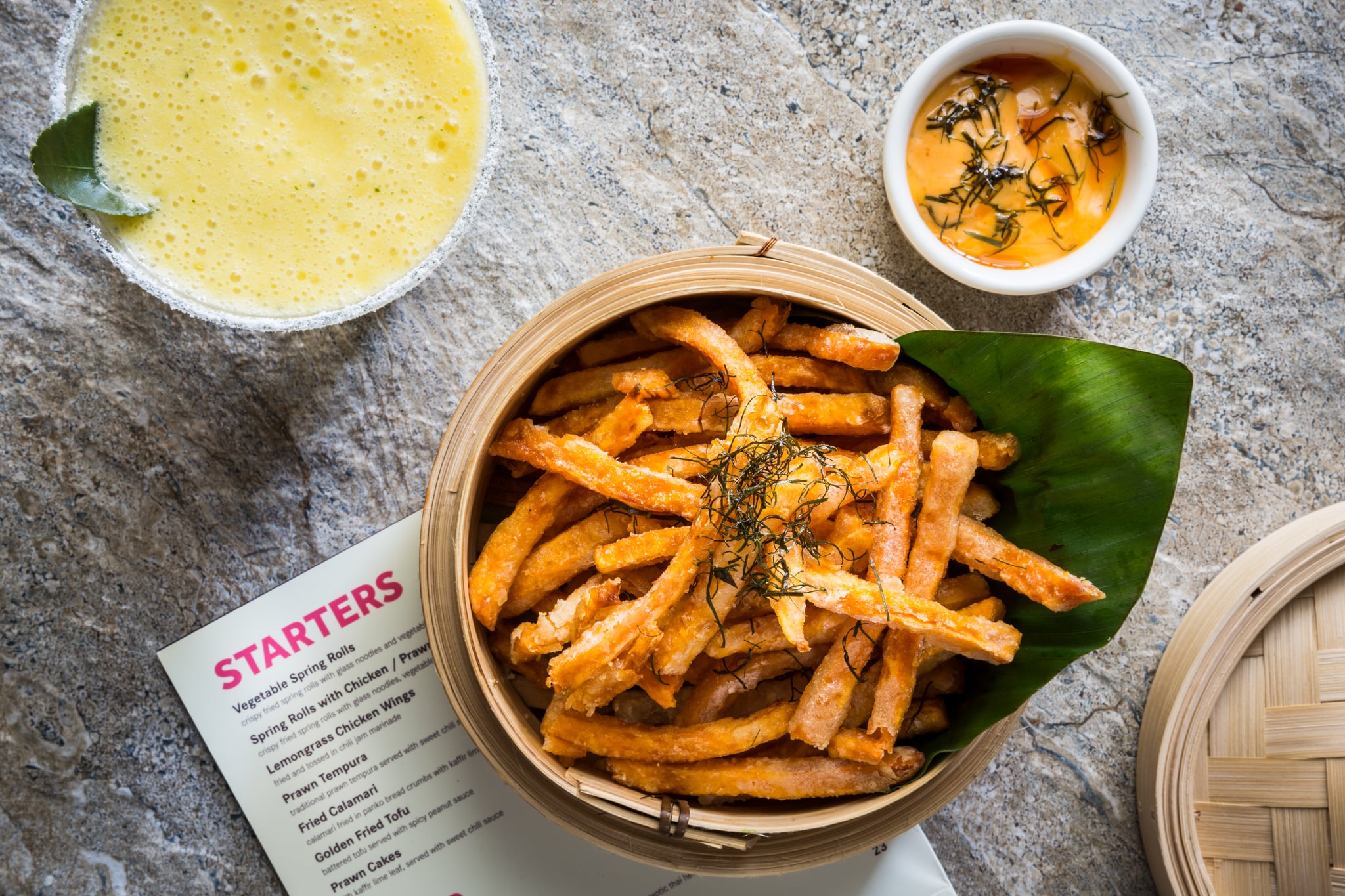 Who says eating gluten-free is a pain when ordering in? Thai restaurant Fuchsia has you covered with this sweet potato fries with peanut sweet chili sauce recipe. Alternatively, follow the recipe below and recreate it at home.
Sweet Potato Fries with Peanut Sweet Chili Sauce
Fuchsia
Ingredients
1.5lbs sweet potatoes
¾ cup rice flour
¼ cup corn starch
1 tsp baking soda
½ tsp salt
¼ cup unsweetened dried coconut flakes
tbs white sesame seeds
½ cup plus 1 tbs water
1tbs paste (recipe below)
Vegetable oil for frying
FOR DIPPING SAUCE:
1 cup sweet chili sauce (store bought)
½ cup roasted peanuts, finely chopped
¼ cup fresh cilantro leaves, chopped
1 fresh birds eye chili, chopped (can add more or less depending on how hot you like it)
FOR BASIC PASTE: (makes 1½ cups)
4 heads garlic, separated into cloves and peeled
2 tablespoons whole white peppercorns
10 cilantro roots or 1 cup loosely packed chopped stems
Directions
FOR PASTE :
Grind the ingredients in a mortar or food processor to make a smooth paste. Store loosely in a ziplock bag and freeze up to a month.
FOR FRIES:
Peel the sweet potatoes and cut them lengthwise into French-fry like sticks.
In a large bowl, stir together the flour, cornstarch, baking soda, salt, coconut flakes and sesame seeds. Whisk in the water and the paste until combined. The batter will be thick and pasty – do not worry!
Add the sweet potato fries and using your hands, coat them in the batter. Leave the fries in the bowl and set aside.
FOR DIPPING SAUCE:
Put the sweet chili sauce in a small serving bowl and sprinkle with peanuts, cilantro and chili. Mix before serving.
For frying, pour oil into a wok (around 3 inches ) and heat to around 325f. Line a baking tray with paper towels and keep next to stove before you start frying.
One at a time, drop the fires into the hot oil, fry them in batches being careful not to crowd the pan. After 2 minutes the crust should darken and almost become shell like – that's when the fries are ready.
Using a slotted spoon , transfer the fries to the lined baking tray.
Serve with dipping sauce.
Information
Category

Side Dishes

Cuisine

Other Asian

Yield

4
Image Source: Fuchsia