Goat Cheese, Tamarind and Coriander Seeds
Aid Digestion and Fight Inflammation With This Goat Cheese, Tamarind and Coriander Seeds Dish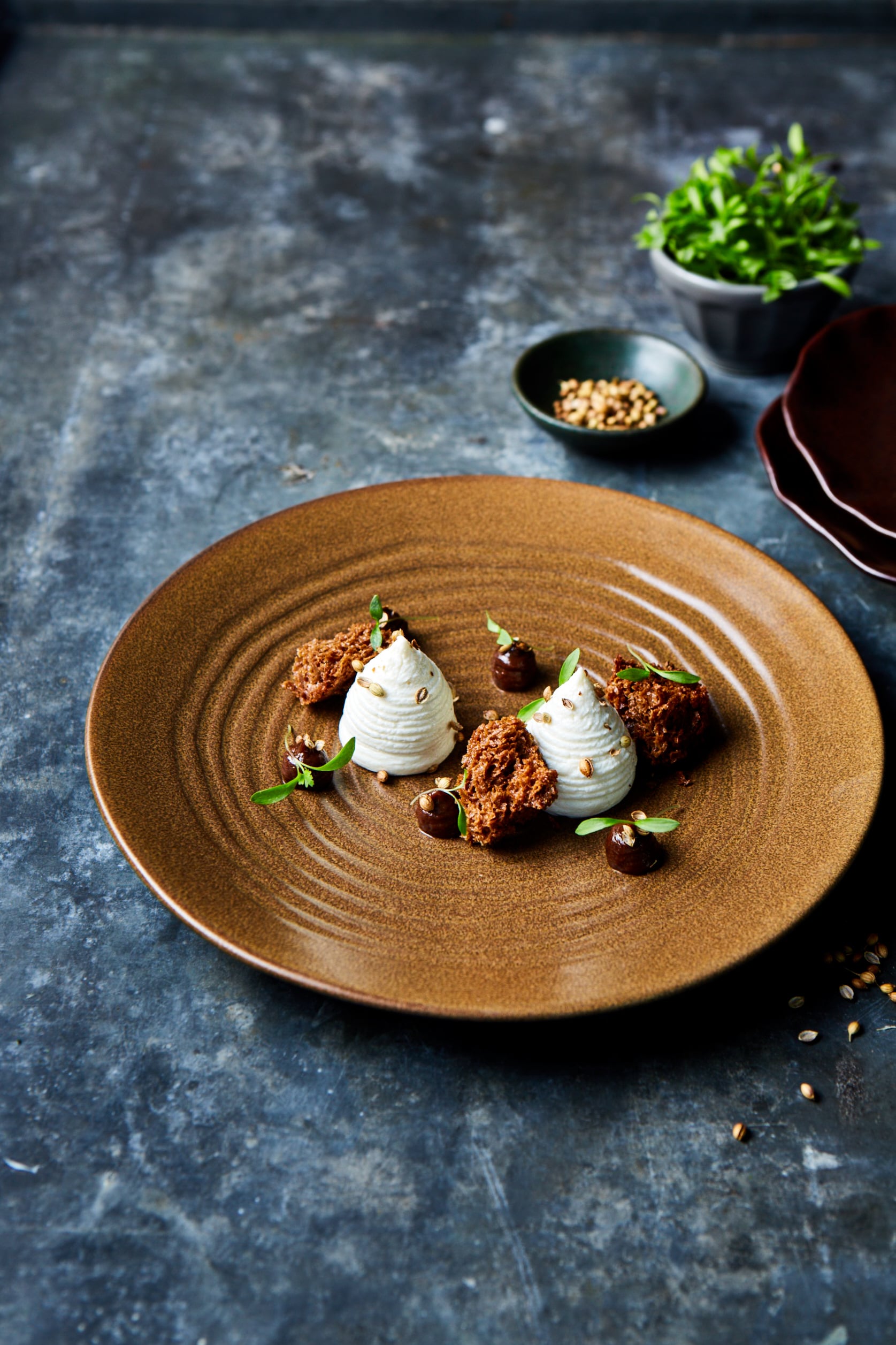 The ancient African fruit of tamarind is known for helping fight a number of ailments including inflammation and digestive issues, while coriander is great for same as well as decreasing blood pressure and supporting a healthy menstrual function. So this goat cheese dish from Dubai restaurant folly by Nick & Scott is as good for you as it is tasty. Follow the steps below to recreate it in your kitchen.
Goat Cheese, Tamarind and Coriander Seeds
folly by Nick & Scott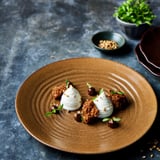 Ingredients
FOR THE WHIPPED GOAT CHEESE:
300g goat cheese (rind removed)
30g cream
20g white vinegar
FOR THE TAMARIND CHUTNEY:
800g tamarind
250g jaggery
250g malt vinegar
60g ginger grated
150g onion diced
800g water
FOR THE CORIANDER SPONGE CRUTON:
100g toasted coriander seed (keep a little back for garnish) powder
80g isomalt
50g plain flour
240g egg white
175g egg yolk
Salt 7g
CO2 gas x 2
Directions
FOR THE WHIPPED GOAT CHEESE:
Break the goats cheese into rough pieces and blend in a food processor with vinegar and cream until smooth but being careful not to make warm, place in piping bag and keep at room temperature until needed.
FOR THE TAMARIND CHUTNEY:

Boil the water and use to soak the tamarind, make into a paste and remove any seeds.
Sweat onion and then add ginger, jaggery and caramelize.
Add vinegar and reduce to syrup, then add the tamarind and simmer until thickened.
Pass through fine sieve and chill until needed.
FOR THE CORIANDER SPONGE CRUTON:
Blend together the coriander seed, isomalt and flour, then add eggs, strain through a fine sieve, pour in to a cream whipper and charge with CO2. Pipe in to small plastic containers and microwave for 1 minute on full power until risen.
Remove and break into 2/3cm pieces.
When needed deep fry at 180 degrees for 30 seconds until lightly crispy on the outside then place in the oven for 3 minutes at 180 degrees ant make sure to keep on absorbant paper to soak up any oil.
TO SERVE:
To assemble, pipe goats cheese on to the plate and sprinkle the top with toasted coriander seeds, using a squeezy bottle, put generous sized dots of the tamarind chutney on the plate around the cheese.
Garnish the plate with 3 pieces of the sponge croutons and decorate with coriander shoots (which are easily grown at home taking around 10 days).
Information
Category

Appetizers

Yield

10