Gordon Ramsay Coming to Bread Street Kitchen Dubai October
If You've Ever Wanted to Have Dinner With Gordon Ramsay, You're in Luck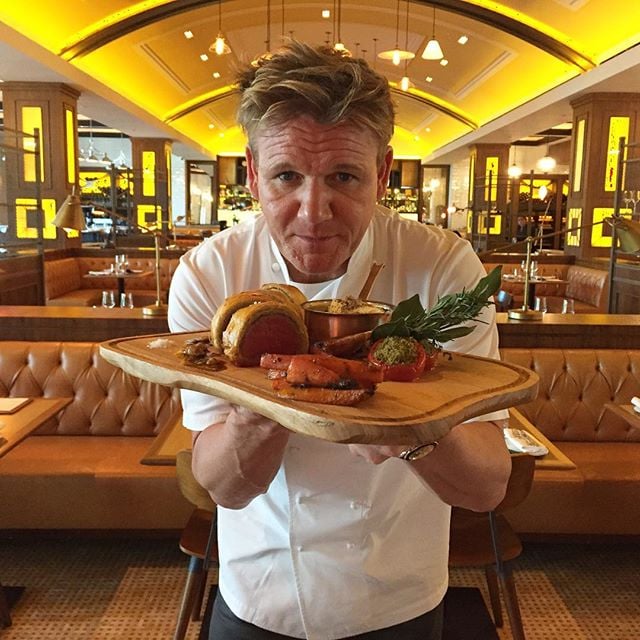 If you've watched one of his many reality shows, you're probably be one of the people who are dying to meet Gordon Ramsay in the flesh. And this month, people in Dubai have the chance to try food while the celebrity chef himself is flitting between the kitchen as he returns to Bread Street Kitchen & Bar.
To celebrate his fourth restaurant under the name being open for one year, Gordon will be around October 20 and 21 to greet diners at Atlantis the Palm during some exclusive receptions. Expect him to be mingling with fans holding bubbles and canapés in hand before guests sit down to a three-course menu with wine pairing on the Thursday night. For AED550 per person you can try signature dishes such as the King Crab and Lobster Cocktail starters, Beef Wellington with Truffle Mash and Honey Roasted Carrots main and a trio of desserts including Bread and Butter Ice Cream. Yum!
Bring the family down on Friday for brunch where there will be street music, cooking and arts classes for children, kids's entertainment and free entry to The Lost Chambers Aquarium. From 12:30pm-4:00pm, it costs AED95 per child and AED395 per adult (including house beverages).
If his on-screen behavior is anything to go by, let's hope he manages to control his temper in front of the little ones!