Green Salad Red Wine Vinaigrette
The Green Salad That Put a Ring on It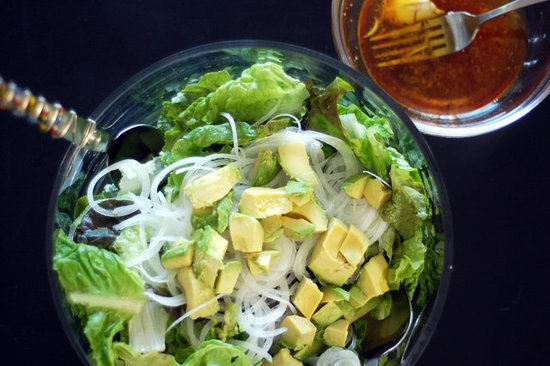 If you're not into engagement chicken, or if you're looking to double your chances this Valentine's Day, don't miss out on this simple green salad recipe. True story: when my now-husband proposed to me, he managed to sneak in a line about how excited he was that I'd make this salad for him every day for the rest of his life. I've since shared the recipe with friends, whose significant others also go crazy for it, so maybe I'm on to something with this salad.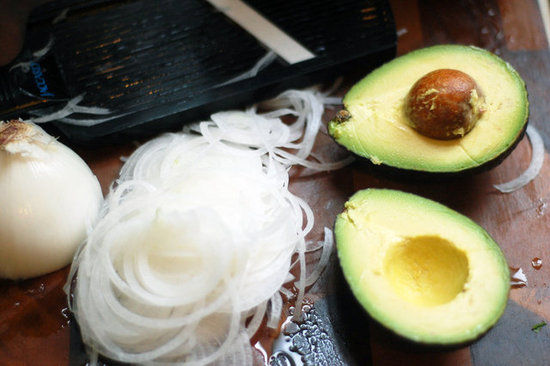 Regardless, this salad is so easy and satisfying, you could easily enjoy it alongside any meal every night of the week. It goes particularly well with rich, meaty dishes that beg for something crisp and acidic to balance them out. The red leaf lettuce holds the vinaigrette really well, while the avocado adds a bit of creaminess to the dish.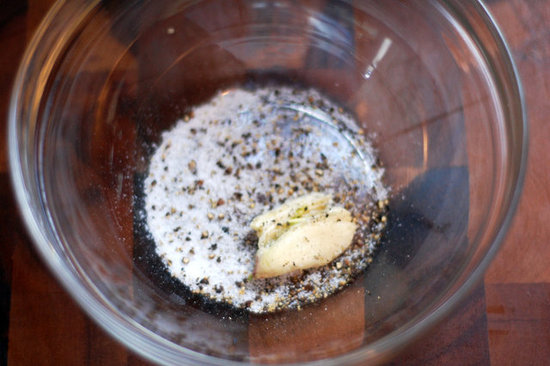 There are a couple of secrets to this recipe. When you wash your lettuce, don't dry it completely. A bit of moisture on the leaves helps water down the dressing a bit, making it incredibly succulent. Secondly, the combination of oils used in this recipe helps make sure the salad is not overpowered by the flavor of olive oil.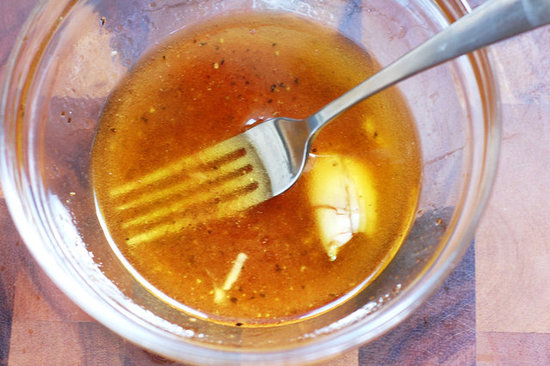 The dressing is the key element in this salad. I use it on just about everything that calls for a vinaigrette. The simple combination of garlic, salt, pepper, oils, and red wine vinegar comes together easily and, in fact, can be made ahead of time, stored in a mason jar, and used throughout the week.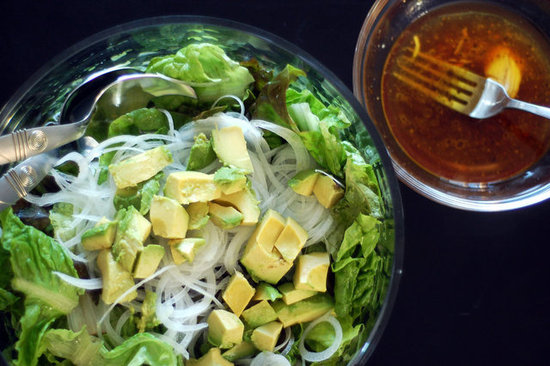 Green Salad With Red Wine Vinaigrette
From Camilla Salem, YumSugar
Ingredients
1 garlic clove
3/4 teaspoon kosher salt
1/2 teaspoon freshly ground black pepper
3 tablespoons olive oil
5 tablespoons canola oil
4 tablespoons red wine vinegar
1 head of red leaf lettuce (or red butter lettuce)
1 avocado
1/2 white onion, thinly sliced
Directions
With the side of your knife, smash your clove of garlic and remove the peel. Place it in a small bowl.
Add salt, pepper, olive oil, canola oil, and vinegar to the bowl.
Whisk together with a small whisk or a fork, making sure to beat up the garlic a bit to bring out its great flavor. Set aside.
Wash and dry lettuce and rip apart into smaller pieces with your hands. Toss into a large salad bowl.
Halve the avocado, remove the pit, and dice it up. Add to salad bowl along with thinly sliced white onions.
Whisk dressing once more, throw away the garlic glove, and pour over salad. Toss well and serve immediately.
Serves 3-4
Information
Category

Salads