Green Velvet Cake With White Chocolate Cream Cheese Frosting
Green Velvet Cake With White Chocolate Cream Cheese Frosting
Cake from Brandi Milloy, POPSUGAR Food; Frosting from Kraft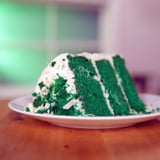 Ingredients
For cake
2 eggs
1 cup oil
1 cup buttermilk
1 tablespoon vinegar
1 teaspoon vanilla
2 ounces green food coloring
2 1/2 cups all purpose flour

2 cups sugar

1 1/2 tablespoons cocoa powder

1 teaspoon salt

1 teaspoon baking soda
For icing
1 (8-ounce) block cream cheese, softened
1/2 stick (1/4 cup) butter, softened
6 ounces Baker's white chocolate, broken into pieces and melted, cooled slightly, plus more for garnish
1 teaspoon vanilla
2 cups powdered sugar
Directions
To make cake: Preheat oven to 350ºF. Prepare 3 6-inch cake pans by greasing with butter, adding parchment paper circles to the bottom. Butter the papers and dust with flour, tapping out any excess.
In a large bowl, whisk together eggs, oil, buttermilk, vinegar, and vanilla. Then stir in food coloring.
In a separate bowl, whisk together flour, sugar, cocoa powder, salt, and baking soda. Slowly whisk in the dry ingredients to the egg mixture until completely combined.
Divide batter evenly between cake pans and then drop the pans on the counter a few times to release any air bubbles. Bake for about 30 minutes, or until a toothpick inserted comes out clean. After about 10 minutes, remove from pans and cool completely on a wire rack.
To make icing: In a large bowl using a stand or electric mixer, beat cream cheese and butter on medium speed. Add melted chocolate and vanilla, and mix well. Add sugar gradually, beating until fluffy. Transfer half the frosting to a separate bowl for the crumb coat.
To assemble: Use a serrated knife to trip the tops of the cake layers to make level. Dab a bit of frosting onto the center of a cake turntable or large, flat platter. Place on 1 layer of cake on top of frosting and press slightly down to secure it. Using an offset spatula, place a third of the reserved crumb coat frosting in the center of the cake, and spread it over top until it starts to spill over the edges then spread over the sides of cake. Carefully place the second layer of cake on top of first, and repeat process with another 1/3 of the frosting. Add the third layer of cake on top, and spread the rest of the reserved frosting over the top and sides. Transfer cake to the fridge (for 30 minutes) or freezer (15 minutes) until set. Thoroughly wash and dry offset spatula.
Once crumb coat has completely set, remove cake from the fridge or freezer. Place remaining frosting in the center of the cake, and spread over the top until it spills over the edges, then spread it over the sides of the cake. Garnish with white chocolate shavings and crumbled green velvet cake.
Information
Category

Desserts, Cake

Cuisine

North American

Yield

8 servings