Grilled Peanut Butter and Jelly Burrito
Grill Up the Sweetest PB&J Burrito
Step one: fire up that grill. Step two: make a nostalgic treat on the grill with this sweet peanut butter and jelly burrito. Step three: whip up this decadent funfetti grilled cheese that's pretty much everything you love about birthday cake grilled to perfection. Then, try your hand at this blueberry and mascarpone grilled cheesecake that works well as both breakfast and dessert. Step four? Enjoy life.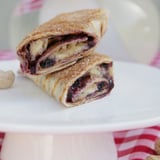 Ingredients
1 banana
1 raw flour tortilla
2 tablespoons peanut butter
2 tablespoons jelly, any flavor
1 tablespoon butter, melted
1 tablespoon granulated sugar
1 teaspoon cinnamon
Directions
Preheat grill to medium heat. Slice banana lengthwise with peel on and grill cut side down for 3-5 minutes. Peel bananas and set aside.
Grill tortilla on each side until cooked but still soft, about 1-2 minutes on each side.
While the tortilla is still warm, spread with peanut butter and jelly and then add peeled banana. Roll tortilla into burrito, and using a pastry brush, spread butter on the outside of the tortilla and sprinkle with cinnamon and sugar.
Place the burrito seam side down and grill for a couple minutes on both sides.
Serve warm.
Information
Category

Breakfast/Brunch

Yield

1 serving

Total Time

14 minutes, 59 seconds