Guilt-Free Creamy Alfredo Chicken!
Guilt-Free Fettuccine Alfredo With Chicken
Do you love chicken alfredo as much as we do, but are sometimes worried about all of the cream and fat that goes into that luxurious sauce? Well what if we told you that it's possible to have your cake and eat it too with a delicious and healthier version of a creamy chicken fettuccine alfredo with a secret ingredient that won't make you feel guilty. Good right? And this dish is twice as enticing because it features surprise ingredients and a surprise guest! Donal Skehan is here to help us cook this amazing recipe!

Notes
To make this dish even healthier, use whole wheat noodles.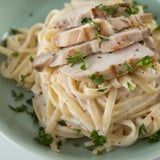 Ingredients
1 pound fettuccine noodles
1 small garlic clove, chopped
1 cup plain yogurt
1 tablespoon butter
1/2 teaspoon salt
1/4 teaspoon Italian seasoning
1/4 teaspoon red chili flakes
1/2 cup grated parmesan cheese
Dash of pepper
Dash of nutmeg
2 chicken breasts, grilled
Parsley
Directions
Bring a stockpot of water to a boil and add the pasta and simmer according to the directions on the box.
Chop the garlic and add it to the boiling water with the pasta.
In a large mixing bowl, add the yogurt, salt, Italian seasoning, and red chili flakes. Give the mixture a stir.
Once the noodles are cooked through, turn off the heat, strain, and return the noodles to the hot pot. Add the butter and toss so the pasta is coated.
Carefully add the pasta to the yogurt mixture and stir until the sauce is evenly distributed.
Sprinkle with the parmesan cheese and give it another toss. Serve with half a chicken breast on top, a sprinkle of parsley, extra cheese, salt and pepper to taste, and a tiny pinch of nutmeg.
Information
Category

Pasta

Yield

4 Servings

Total Time

19 minutes, 59 seconds