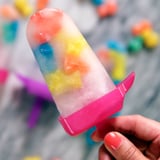 Ingredients
Cream soda syrup:
2 cups cane sugar
2 1/4 cups water
Juice of half a lemon
1 vanilla bean, split in half and seeded
Ginger ale:
1 cup water
8 tablespoons cane sugar
2 pieces ginger
Juice of 1 lemon
Popsicles:
2 cups sparkling water
50-60 gummy bears
2 tablespoons homemade syrup
Special equipment:
Popsicle molds
Directions
To make cream soda syrup: Place sugar and 1/4 cup of water in a medium saucepan set over medium-high heat. Cook until sugar is caramelized and just starting to brown. Slowly add in 2 cups of water, lemon juice, and vanilla bean and bring to a boil. Remove from heat right after it boils, and let stand until cool. Discard vanilla beans and transfer to an airtight container.
To make ginger ale syrup: Bring water to a boil in a small saucepan over medium-high heat. Once it starts to boil, remove it from the heat and add sugar. Stir to dissolve. Peel ginger and grate using a microplane into the sugar water. Add lemon juice, and let stand until cool. Strain out any large pieces of ginger and store in an airtight container.
To make popsicles: Fill popsicle molds 2/3 full with sparkling water and add 1/2 teaspoon of flavored syrup into each mold. Add 10-12 gummy bears into each mold until full. Top with popsicle sticks or lids and freeze for at least 4-5 hours or overnight.
When ready to serve, remove the popsicles from the freezer and enjoy immediately.
Information
Category

Frozen

Yield

6 servings

Total Time

7 hours, 59 minutes, 59 seconds