Gwyneth Paltrow's Chicken Piccata Recipe
Renew Your Love of Chicken With Gwyneth Paltrow's Recipe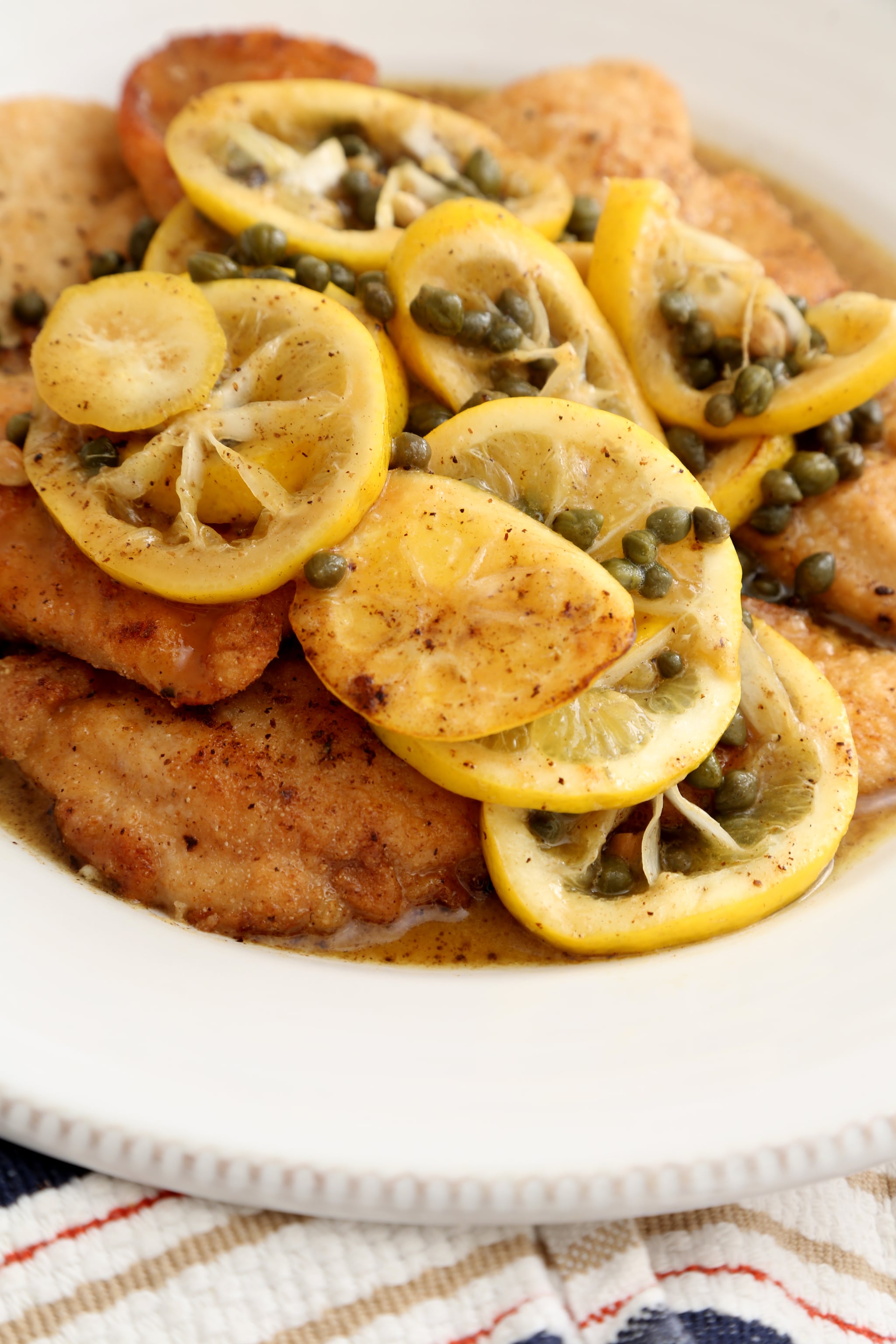 Within the pages of It's All Easy, Gwyneth Paltrow's latest cookbook, there are plenty of carb-y comforts, like pasta carbonara and this chicken piccata recipe, a traditional Italian dish consisting of breaded, pan-fried chicken with a lemony caper-butter sauce. Whether you're looking to change up your chicken-cooking game, test your skillet-frying skills, or simply are a fan of anything Gwyneth, this recipe is for you. But before you begin, take heed of my experience cooking this recipe so you can set yourself up for success.
Though the recipe in the cookbook says this dish takes under 30 minutes, I spent exactly 45 minutes between prep and cooktime, so plan accordingly. I do think it's possible to cut that time way down if you cut the recipe in half or cook with two pans as the recipe notes suggest. In addition, the heat of the stove will affect how crispy and golden the chicken becomes — it sounds obvious, but it's worth noting before you begin. You want to aim for medium high, and do set a timer so you can be sure you cook the chicken through. My first attempt started off a little too blond, but adjusting the heat a tad made all the difference. By the third go-round, I was pulling off perfectly seared chicken strips.
Now for the flavor: this recipe does not hold back on the tartness factor! If ultralemony isn't for you, I recommend adding the lemon juice to taste, rather than dumping the full amount in — that way you can control the acidity and let the buttery and briny flavors shine. Serve this over a bed of steamed rice or pasta or even sauteed zucchini noodles to help balance out the flavors.
Notes
Growing up, I struggled with the briny, sharply acidic flavors of this dish (which, unfortunately for me, was one of my dad's favorite things to cook), but now I can't get enough of it. If you're short on time, get someone at the meat counter to pound out your chicken for you and be sure to let the lemon slices get caramelized and sweet before adding the other ingredients. If you want dinner ready ASAP, and don't mind cleaning more dishes, use two sauté pans to cook all the chicken at once. — Thea Baumann
Ingredients
2 pounds chicken cutlets, pounded to 1/4-inch thickness
1/4 cup all-purpose flour
4 tablespoons neutral oil, or as needed
Salt and freshly ground black pepper
1 lemon, cut into 1/4-inch slices
1/4 cup capers
4 tablespoons (1/2 stick) unsalted butter
Juice of 1 lemon
1/4 cup finely chopped fresh parsley
Directions
Use a paper towel to dry the cutlets well and place the flour on a large plate or in a shallow bowl.
Meanwhile, heat the oil in a large sauté pan over medium-high heat, season the cutlets generously with salt and pepper, then dredge them, one at a time, in the flour before placing them in the hot sauté pan. Cook until nicely browned on one side, about 3 minutes, then flip and brown the other side.
When the chicken is nicely browned and cooked through, transfer it to a plate or serving platter and cover to keep warm. Repeat until all the chicken has been cooked (you will most likely have to do this in batches). Add the lemon slices to the pan, cooking until browned and slightly softened, 1 to 2 minutes. Reduce the heat to medium; add the capers, butter, lemon juice, and a large pinch of salt and cook for 1 minute.
Taste for seasoning, add the parsley, pour the sauce over the chicken, and serve.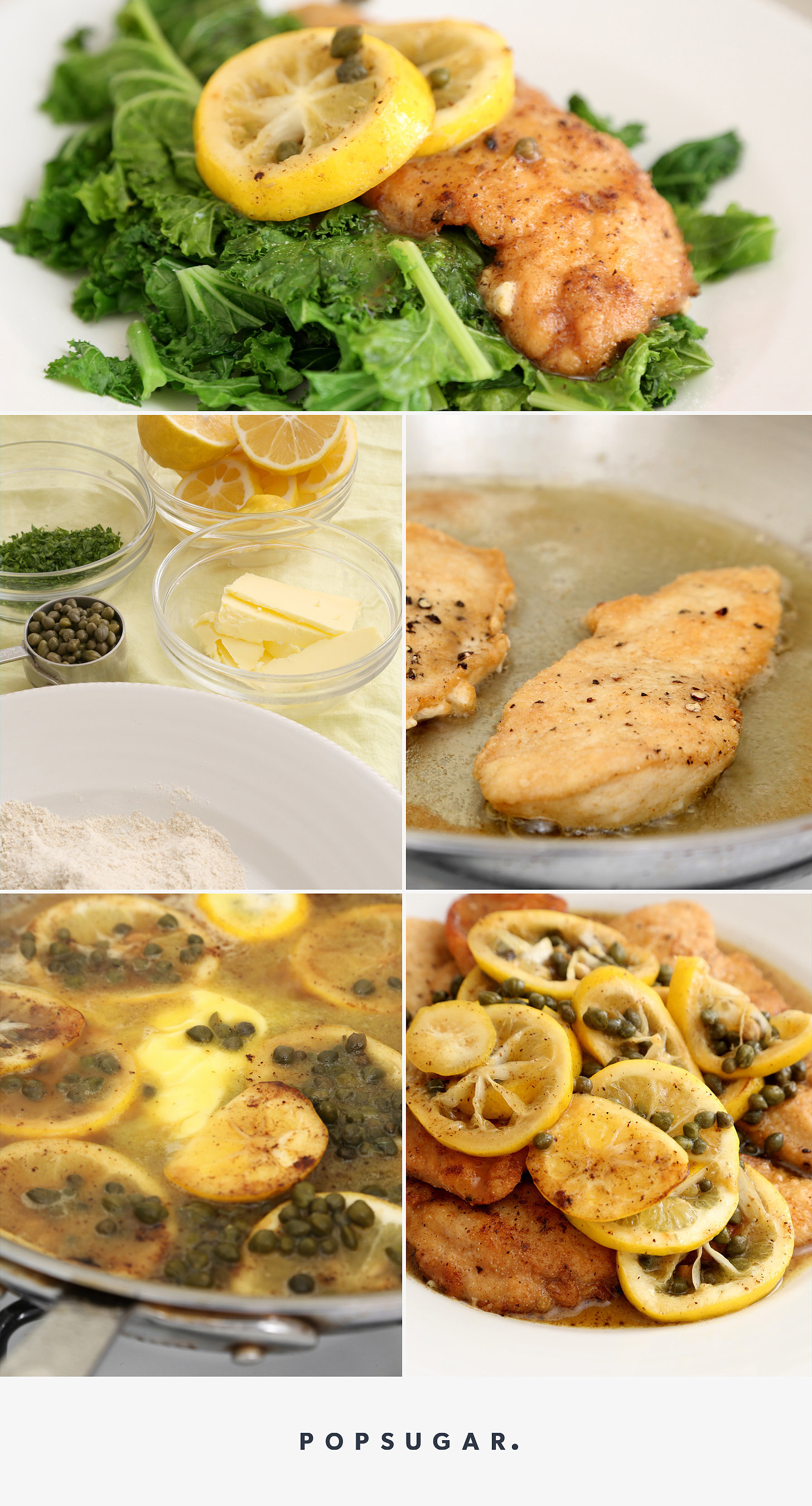 Image Source: Excerpted from the book It's All Easy by Gwyneth Paltrow. Copyright © 2016 by Gwyneth Paltrow. Reprinted with permission of Grof Grand Central Life & Style. All rights reserved.
Information
Category

Main Dishes

Cuisine

Italian

Yield

Serves 4

Total Time

44 minutes, 59 seconds
Image Source: POPSUGAR Photography / Anna Monette Roberts