Homemade Breakfast Burritos
Build Your Own Breakfast Burrito at Home
The breakfast burrito: a divine combination of vegetables, meat (sometimes), cheese, eggs, and hot sauce all wrapped up in a warm tortilla. It's the perfect hangover remedy and it's incredibly satisfying.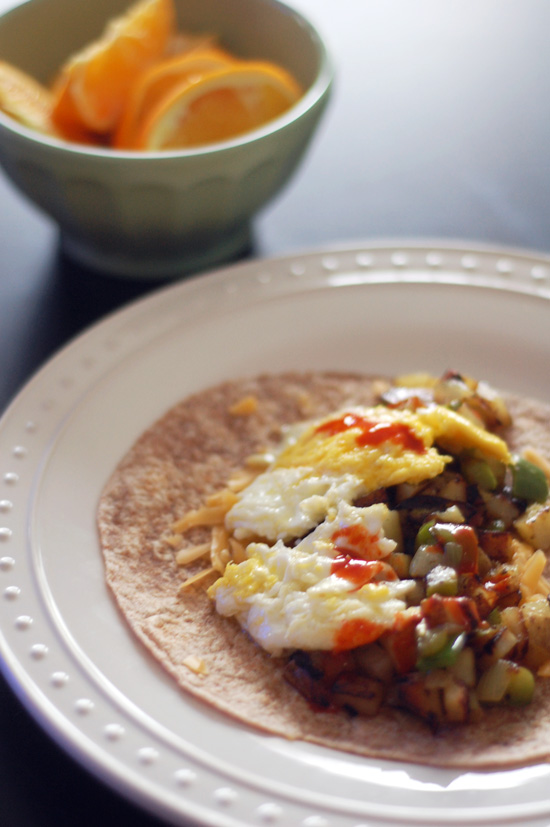 A few weeks ago, I had a craving for a breakfast burrito. But in an effort to not let the contents of my fridge go to waste, I set out to see if I could make my own and still be satisfied. I actually surprised myself with how tasty these burritos were. I much prefer these over any I've had from a restaurant and I love the fact that you can experiment with your fillings.


This specific vegetarian recipe comes together in just 15 minutes, but don't be turned off by its simplicity because it's loaded with flavor. It calls for just a few vegetables that cook together in a cast-iron pan that brings all of the flavors out beautifully. A little bit of cheese, a scrambled egg, a few dashes of Tapatío, and things are good to go. I used a whole-wheat tortilla because I prefer the flavor, and honestly, that's what I had in my refrigerator.


For the recipe, keep reading.

I made these again over the weekend and added black beans, leftover roasted sweet potatoes, and avocado, and even though I wasn't able to completely close the burritos, they were completely delicious. Experiment with your fillings and come back and share what you've come up with! It's so liberating to be able to make your favorite restaurant dishes at home and actually be pleased with them.