How The Best Chefs Cook Chicken Thighs
This Is How All Your Favorite Food Stars Cook Chicken Thighs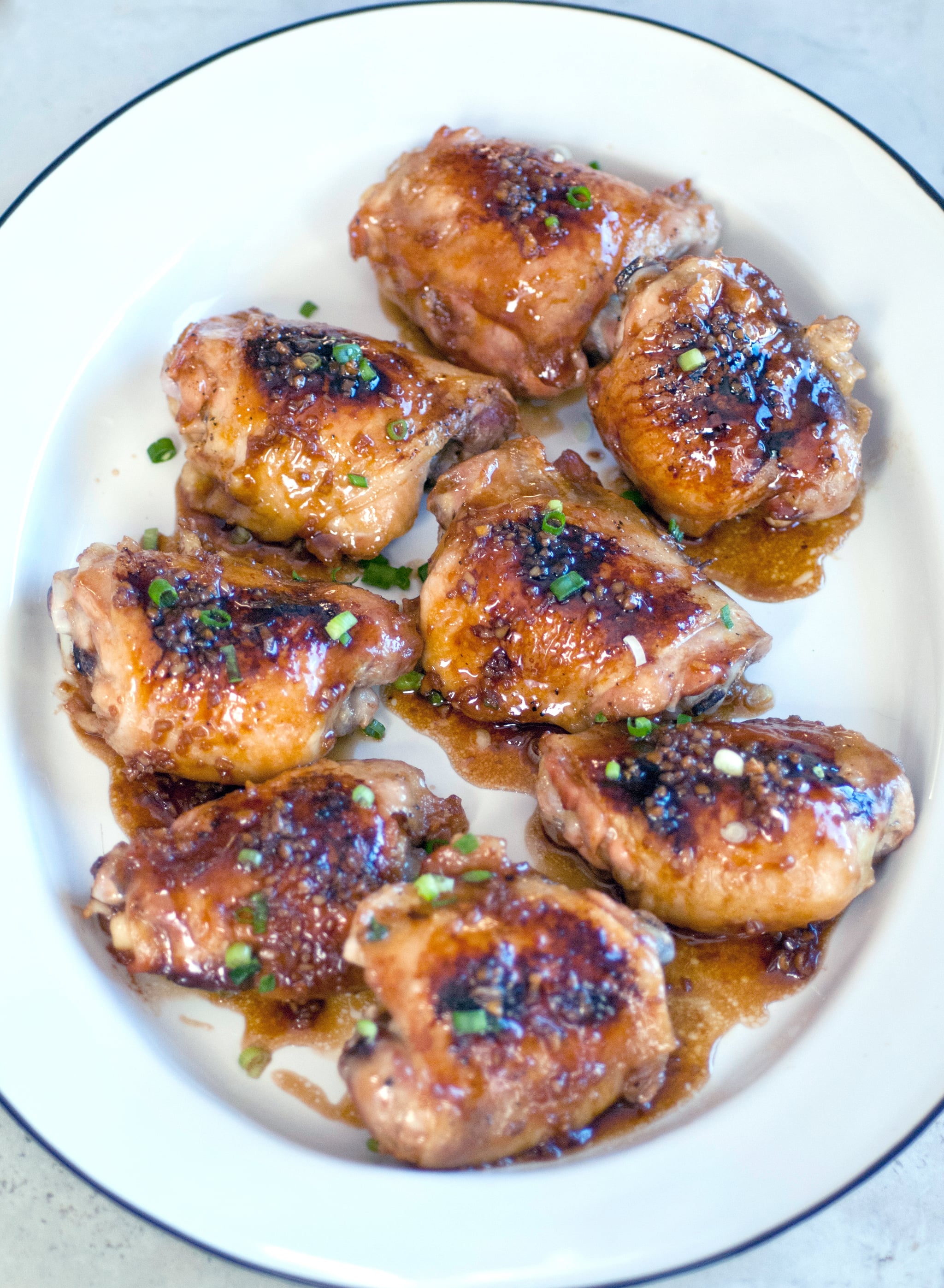 When you think about cooking with chicken, you probably gravitate toward boneless, skinless chicken breasts. But chicken thighs deserve more of your attention because they're so more flavorful (dark meat FTW), even cheaper, and just as easy to cook as chicken breasts. Not sure where to start? These recipes from some of our favorite food personalities and celebrity chefs just will inspire you to incorporate chicken thighs in your next home-cooked dinner.
Giada De Laurentiis: Classic Cacciatore
Giada's chicken cacciatore is a classic Italian dish of braised chicken and tomato sauce. Giada's recipe calls for both chicken thighs and breasts, but you could use all thighs for even more flavor. After simmering in the garlicky sauce for about 30 minutes, the chicken becomes so tender it practically falls off the bone.
Ree Drummond: Homemade Orange Chicken
Ditch the delivery fee for Ree Drummond's orange chicken, which is just as easy to make as it is to order from a takeout menu. With a homemade sauce free of preservatives and packed with orange juice, soy sauce, brown sugar, rice wine vinegar, chili flake, and grated ginger, the bite-size chicken is as good as it gets. You can easily double the recipe and serve it with white rice for a restaurant-quality meal for the whole family.
Emeril: Lemon-Garlic Chicken Thighs With Pasta
Simple and flavorful is the name of the game in Emeril's lemon-garlic chicken thighs recipe. After lightly dredging the chicken thighs in flour and browning them in a pan, Emeril simmers them in a lemony sauce with a chicken broth base to ensure there's no dry chicken in sight. To make this Italian meal more complete, Emeril serves the chicken with angel hair pasta coated in the extra juices from the skillet.
Aarti Sequeira: Creamy Chicken Curry
Like Ree Drummond's recipe, Aarti Sequeira's creamy curry with chicken tikka masala is a takeout favorite you can easily cook for yourself. Boneless, skinless chicken thighs are just as accessible as boneless, skinless chicken breasts, and they make the dish even better. All you need for the perfect curry sauce is a handful of pantry and fridge staples like yogurt, garlic, tomato paste, paprika, and a few fresh ingredients to tie it all together.
Tyler Florence: Basic BBQ Chicken
Tyler Florence's ultimate barbecued chicken calls for the two best cuts of chicken, thighs and legs, and a brine guaranteed to saturate every inch of the meat (water, salt, sugar, garlic, and thyme). The best part of this recipe is you can marinate the chicken for two hours if you have the time, but 15 minutes will yield almost just as much flavor. If you don't want to grill outside, you can sear the chicken indoors on a grill pan, and you can have the summertime favorite all year round.
Chrissy Teigen: Best-Ever Chipotle Chicken
One of Chrissy Teigen's cooking tips is to opt for dark meat over white meat every time because of the flavor. One of the recipes she makes the most from her cookbook, Cravings is chipotle-honey chicken with mango-avocado salsa. On page 213 of her cookbook, Chrissy notes this is the first recipe to ever hit her blog! "This chicken is my pride and joy. My first born. My identical twin," she writes. If that doesn't give you reason enough to try it, maybe the chipotle-bourbon-garlic BBQ sauce will.
Image Source: POPSUGAR Photography / Sarah Lipoff