How Chefs Cook Pancakes
This Is How Your Favorite Chefs Make Pancakes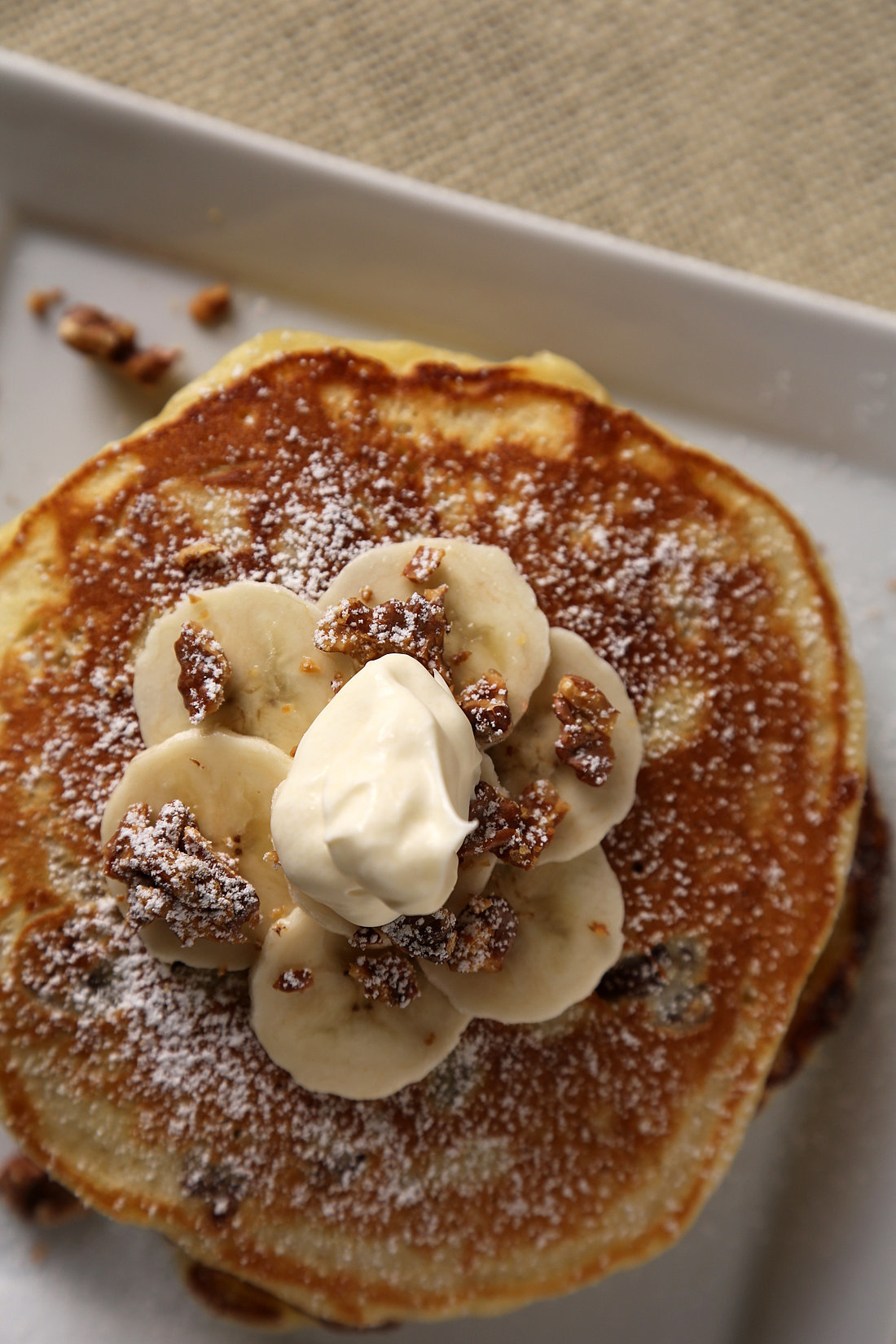 With a classic (but time-consuming) dish like pancakes, it makes total sense you would want to turn to the top-rated recipes from celebrity chefs and food personalities. These recipes win in a number of arenas, including having a stellar review and offering a unique spin on the flavor.
Sunny Anderson: Candy-Bar-Studded
A whole candy bar, like Butterfingers or Snickers, is called for in Sunny's candy bar pancakes. Talk about yum!
Alton Brown: Instantly Mixed
Don't have any time to make homemade pancakes? That's nonsense, especially when you can have Alton's "instant" pancake mix on hand.
Anne Burrell: Chive Pancakes With Gorgonzola and Bacon
Not everyone is into sweet pancakes. Anne Burell knows this, which is why she folds in garzonzola and bacon into her pancake recipe.
Melissa d'Arabian: Sneaky Veggies
While I can't personally vouch for Melissa's chocolate-chocolate veggie pancakes, which are packed with carrots, spinach, oats, and apples, the five star rating speaks for itself.
Paula Deen

: Topped With Cinnamon Cream

Sometimes, it's the little things that are most memorable. Case in point: Paula Deen's chocolate chip pancakes are topped with whipped cream seasoned with ground cinnamon.
Giada De Laurentiis: Lightened-Up
"Ricotta cheese in the batter keeps these pancakes moist without weighing them down," says Giada. Add it at room temperature so it's "nice and creamy."
Ree Drummond: Granola-Topped
The texture of pancakes can be a little boring, which is why The Pioneer Woman adds some crunch to her pancakes with granola. Sweeten the deal with a heaping spoonful of strawberry preserves too.
Bobby Flay

: Vanilla to the Max

Take a tip from Bobby Flay and amp up the vanilla flavor in your pancakes by using both vanilla beans and vanilla extract in your batter.
Tyler Florence: Sear the Bananas
Sometimes a banana pancake can turn out mushy, but not with Tyler's technique of pressing the banana slices onto the top of each pancake (as they are cooking on the griddle) right before flipping them. That way, the bananas are exposed to the griddle and can caramelize to perfection.
Ina Garten: Sour Cream Secret Ingredient
Instead of buttermilk, opt for something even more lushious like sour cream, the key ingredient in The Barefoot Contessa's pancakes.
Trisha Yearwood: Pancake Sandwich
If you haven't ever thought about turning your pancakes into the bread ends of a sandwich, consider it it. Trisha Yearwood makes hers with banana and peanut butter maple spread, but the skies the limit.
Emeril Lagasse

: Almost Like Cornbread

Another savory pancake take is Emeril's cornmeal and ham pancakes which stars his "Essense" spice, a blend of paprika, pepper, and more Italian spices that you'll want to shake on just about everything.
Rachael Ray

: Cookie-fied

Pancakes that are like oatmeal cookies?! Rachael Ray knows the way to our hearts.

Image Source: POPSUGAR Photography / Anna Monette Roberts