How Chefs Cook Steak
This Is How All Your Favorite Chefs Cook Steak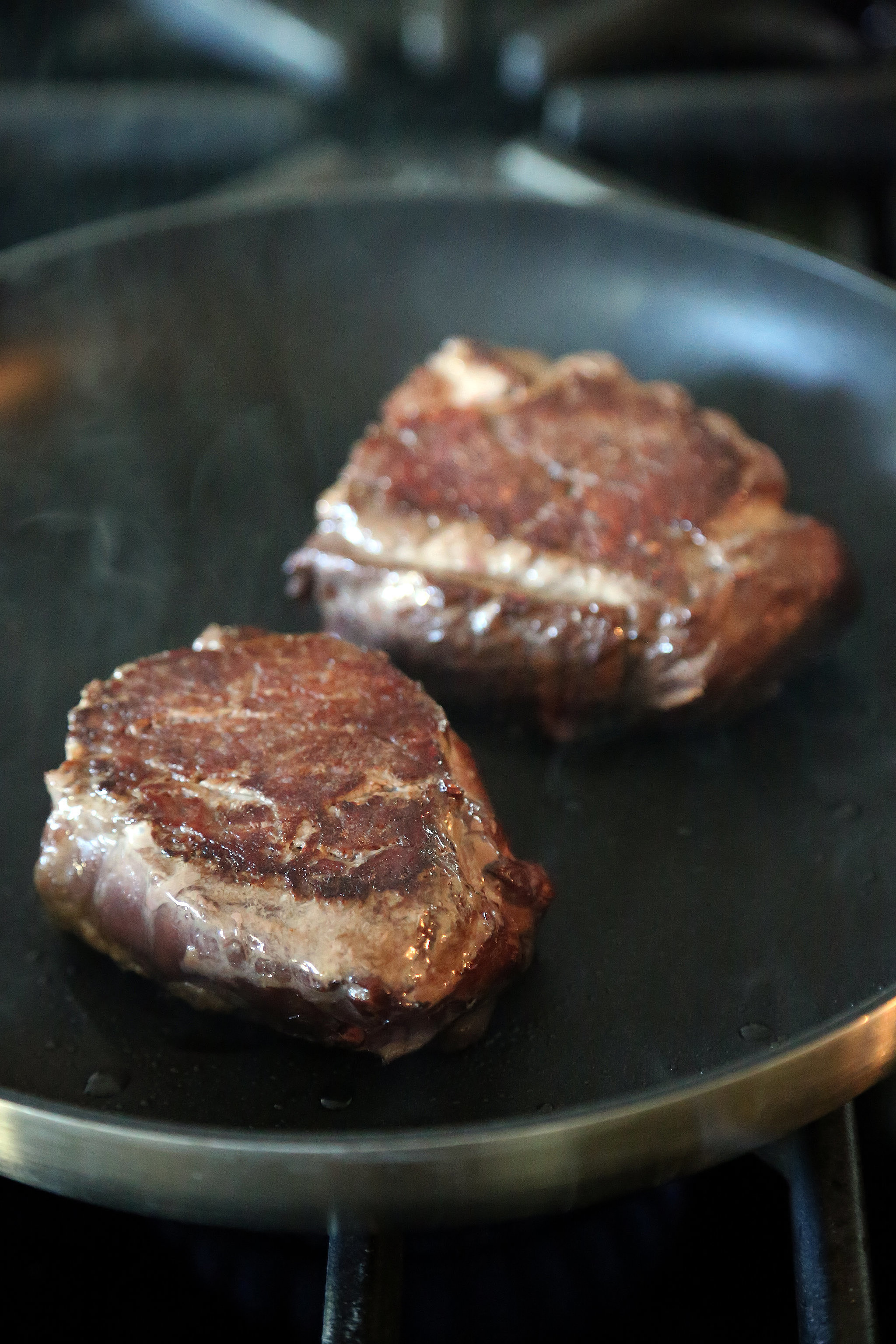 Steak is one of those things that intimidates a lot of people, but really shouldn't. If you've ever struggled with cooking the perfect steak, this list of tips should help. We've turned to some of our favorite Food Network personalities and more celebrity chefs for their steakhouse-worthy cooking methods.
Alton Brown: Pan Seared and Oven Baked
For pan-seared rib eyes, Alton Brown recommends two key things: bring the steak to room temperature (it cooks quicker this way), and heat a cast-iron skillet in the oven while the oven heats to 500 degrees. He doesn't use the oven until the steaks have been seared first, but heating up the skillet before putting it on the stove helps get the process started and ensure a completely heated-through pan.
Giada De Laurentiis: Add Italian Flavors
Giada's Tuscan rib-eye steak recipe proves everything is better with Italian flair. If you're into rosemary, thyme, garlic, and and lemon (who isn't?), this is the best way to cook your steak.
Ree Drummond: Butter-Rubbed Grill Pan
The Pioneer Woman's first blog post to go viral was entitled How to Cook a Steak, and it's easy to see why. Her "never-fail arsenal" is just three ingredients: "Lawry's Seasoned Salt, McCormick Lemon Pepper, and a nice stick of regular (salted) butter." Ree advises coating a hot grill pan in butter before searing the steaks. In the post, she promises, "If you cook it for your friends, they'll never invite you over to their house for dinner again. You will have permanently raised the bar."
Gordon Ramsay

: Baste With Butter

It's no surprise that Gordon Ramsay's tip for steak is the same as his tip for burgers: baste with butter. Besides the fact that fat makes everything taste better, Gordon explains that coating steak with melted butter "gives it a nice nutty brown finish."
Ina Garten: Steakhouse-Style Filet Mignon
Leave it to The Barefoot Contessa to school us in making a restaurant-worthy dish at home. If you're feeling fancy and opt for filet mignon, you'll want to use a generous coating of fleur de sel and coarsely cracked black peppercorns to achieve a perfect crust. If you follow her recipe to a T, you'll be the one saying, "How easy is that?"
Chrissy Teigen: Soak in a Garlicky Marinade
Chrissy Teigen admits in her cookbook, Cravings, that she's normally a traditionalist when it comes to steak (page 206), but her husband John Legend's "best marinade in existence" changed her mind. A lot goes into it — soy sauce and garlic, for starters — and after marinating for eight hours, you're on your way to juicy, flavor-packed steak. "I would probably still go simple if I was staring at the most beautiful piece of beef I've ever seen, but use this tangy marinade on a nice, solid rib eye, and I promise you, it will be hard for you to have it any other way," she wrote.
Tom Colicchio: Grill on Each Side
Top Chef's Tom Colicchio recommends turning the steak a total of six times while it's on the grill (grill it for three to four minutes on each side, including the edges). He also recognizes that quality is more important than quantity when it comes to steak. In an interview with POPSUGAR, he said, "start with buying the perfect steak — you can't buy a lousy piece of meat and make it great."
Bobby Flay

: Perfectly Grilled

Bobby Flay, master of the grill, doesn't bother with anything complicated for his perfectly grilled steak recipe. All you need is steak, oil, and salt and pepper — and Bobby always recommends oiling the meat itself, not the grill or pan.

Related:

Image Source: POPSUGAR Photography / Anna Monette Roberts