How Chefs Make Chili
This Is How All Your Favorite Chefs Make Chili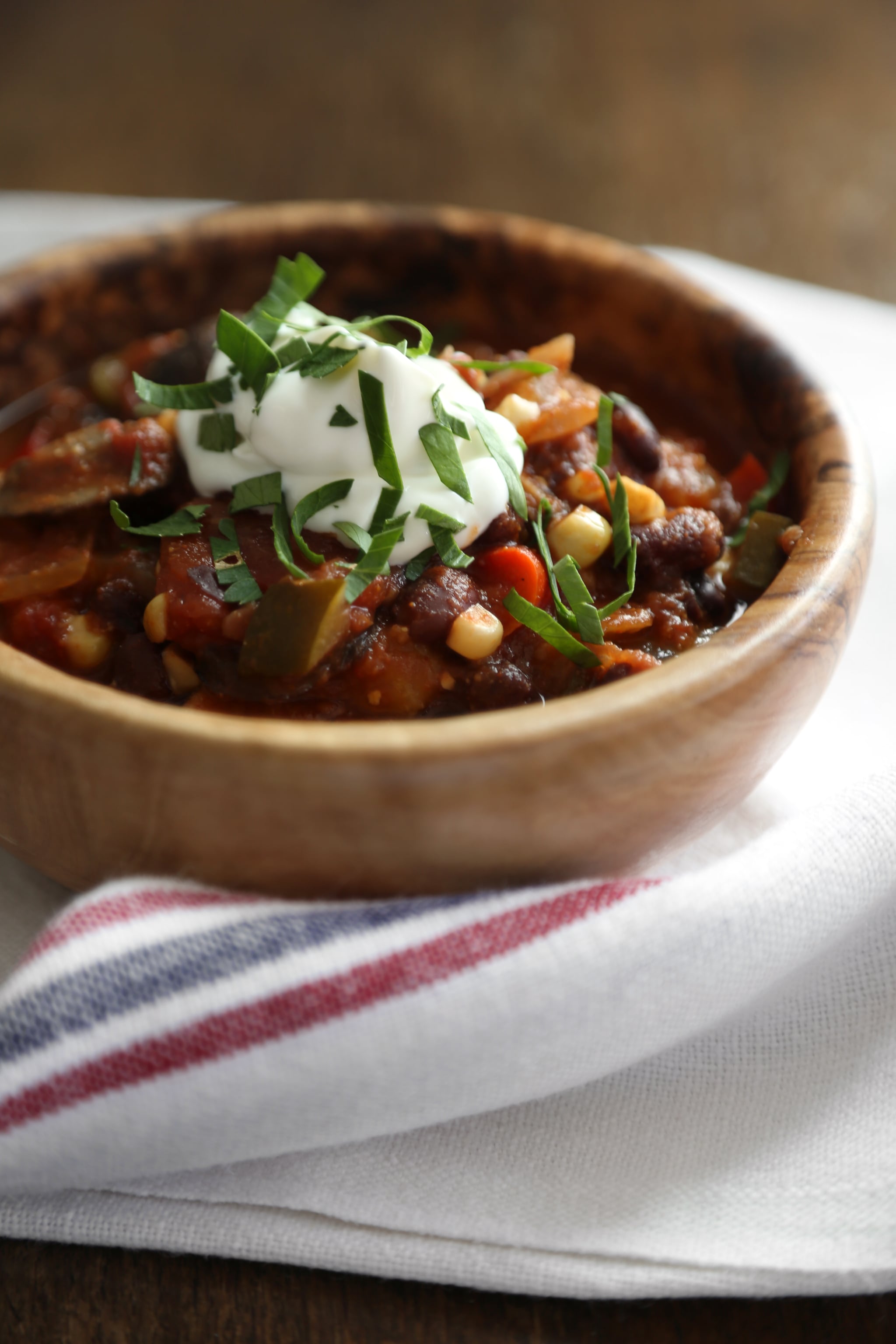 On a cozy Fall night when staying in sounds like a good idea, there's almost nothing more comforting than a big pot of homemade chili. And if your memories of chili involve little more than under-seasoned ground beef and beans, these chefs' recipes are here to help you make an upgrade. Whether you prefer chicken instead of beef, a casserole to feed a crowd, or a classic take on the meal, these popular recipes from Ree Drummond, Alton Brown, Giada De Laurentiis, and more of your favorite food stars have you covered. Pass the sour cream, and make one of these the next time you're craving a hearty serving of comfort food.
Ree Drummond: Stick to the Classics
Ree Drummond's chili recipe is called "simple, perfect chili" for a reason. She has a no-fuss approach and simmers ground beef, canned tomato sauce, canned beans, and plenty of spices like cumin, chili powder, and cayenne pepper to kick the flavor up a notch. She serves the back-to-basics, comforting bowls of beef chili with shredded cheddar, chopped onions, tortilla chips, and lime wedges.
Ina Garten: Swap Beef For Chicken
If you don't eat beef, opt for Ina Garten's chicken chili recipe. Ina uses bone-in, skin-on chicken breasts instead of boneless, skinless breasts to ensure more flavor and moisture in the meat. While the base for the chili (which includes red and green bell peppers, garlic, red pepper flakes, canned tomatoes, and basil) simmers on the stove, roast the chicken in the oven until it's cooked and can be cut off the bone and added into the pot to marry with all the other flavors.
Trisha Yearwood: Casserole-ify It
Casseroles are always a good idea when feeding a group, and Trisha Yearwood's cornbread chili casserole is the ultimate Fall comfort food for a dinner party. The salsa-infused beef chili is layered in a baking dish and topped with a crumbly cornbread mixture and baked in the oven until it's golden brown. Each warm serving is topped with a big dollop of sour cream and a sprinkle of cheddar cheese.
Giada De Laurentiis: Use Ground Turkey and Quinoa
Giada De Laurentiis's California turkey chili calls for a few ingredients you wouldn't expect, including a quinoa pine nut pilaf. With a lightened-up California twist, the chili is packed with ground turkey, white beans, and poblano chiles, and is served on top of a bed of the quick quinoa pilaf made with chicken broth, parsley, and pine nuts. It's an unexpected combo when it comes to chili, but it totally works. The pine nuts add crunch to the soft chili, and the whole-grain quinoa adds hearty nuttiness.
Alton Brown: Pull Out the Pressure Cooker
You'll want to dust off your pressure cooker or Instant Pot for Alton Brown's pressure cooker chili, which comes together in less than an hour total. It's no surprise that Alton's recipe has a few unique twists, like using a combination of beef, pork, and/or lamb, and pouring a beer into the pressure cooker to deglaze the bottom after browning the meat. With salsa, chipotle peppers, adobo sauce, and tortilla chips cooked right in the pot, the chili has a wonderfully smoky, Tex-Mex taste.
Chrissy Teigen: Eat It With Fritos
Leave it to Chrissy Teigen to come up with the easiest, least-glamorous, most-tasty sounding chili recipe of all: a "Frito pie bar" with chili eaten straight out of the chip bags. Her foolproof recipe can be found on page 148 of her cookbook, Cravings, and after one look of the messy, chili-stuffed Frito bags topped with sour cream, cheese, jalapeños, and guacamole, and you're going to want to make this ASAP. The chili recipe is technically John's, and it makes a big enough batch to freeze leftovers for later. The secret ingredient, as usual when it comes to Chrissy's and John's recipes, is Lawry's seasoning salt.
Image Source: POPSUGAR Photography / Anna Monette Roberts