How Chefs Make Potato Soup
This Is How All of Your Favorite Food Stars Make Potato Soup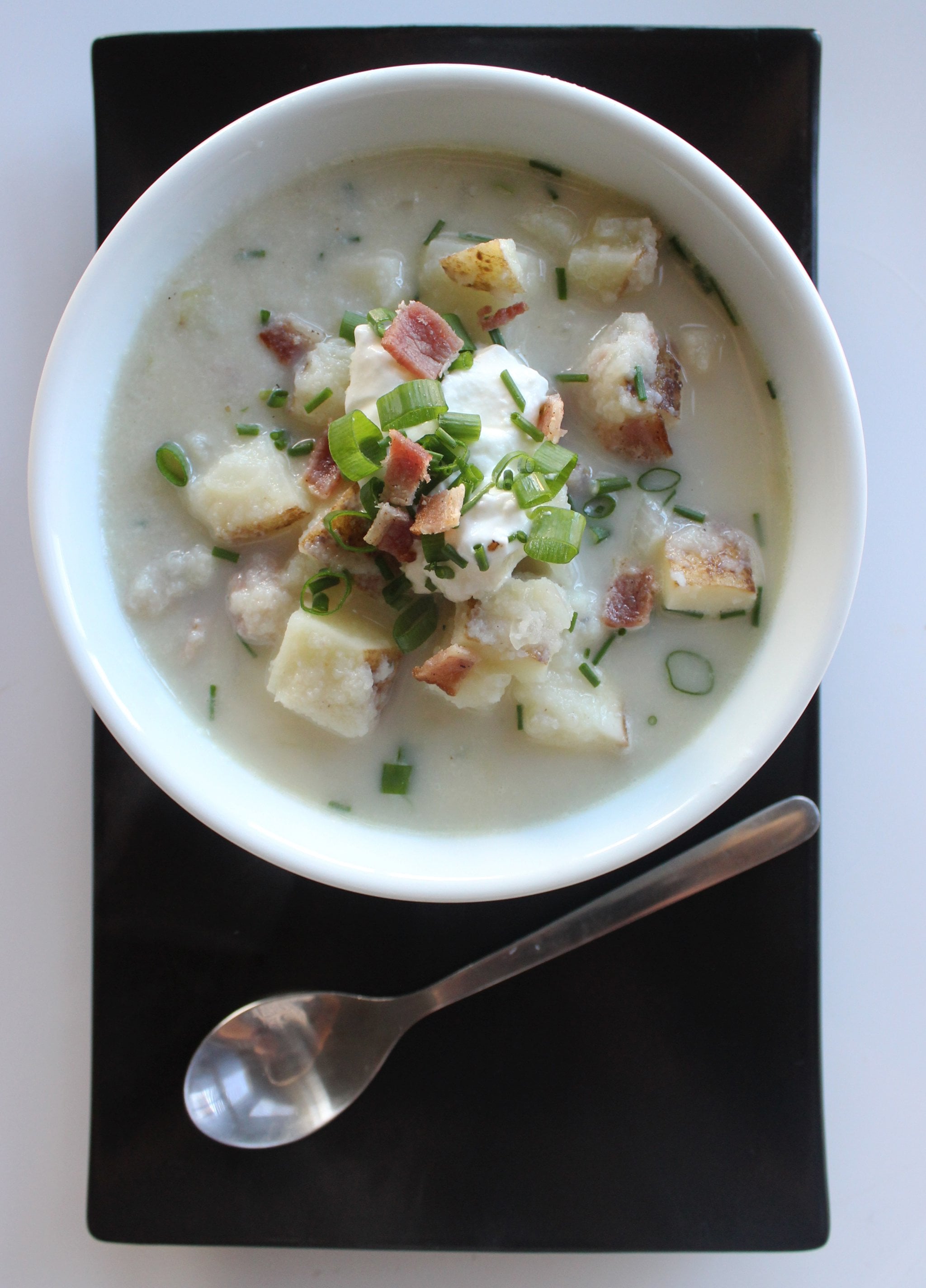 If you're in the mood for some hearty soup or a little carby goodness as the weather takes a turn for the cooler side, look no further than potato soup. It's creamy, hearty, and undeniably comforting to cozy up too, and the fact that potatoes are the main ingredient . . . well, need we say more? But let's take a lesson from our Food Network favorites on their techniques when it comes to whipping up the perfect batch of potato soup. (Ree Drummond we're looking at you!)
Alton Brown: Slow Down the Cook-Time
Alton Brown's leek potato soup recipe is what dreams are made of, truly. It's cooked low and slow for an insanely smooth texture and taste and processed with an immersion blender along with buttermilk and heavy cream for added richness.
Ree Drummond: Never Underestimate the Power of Bacon Grease
"Any soup that begins with bacon is just fine by me," Ree Drummond says at the beginning of her Perfect Potato Soup video. Bacon grease is the secret to the overall savory taste of dish. The soup ingredients are sauteed in the bacon grease for full-bodied flavor. Ree likes to blend half of the soup so it's half creamy with some bits of the potato and carrot. Serve it with shredded cheddar and bacon crumbles for added "mischief" to this decadent soup.
Guy Fieri: Bake Your Potato First
Guy Fieri takes a slightly different approach when creating his fully loaded baked potato soup recipe. He also incorporates bacon, but he creates a roux using the leftover grease and flour before adding the other ingredients. Fieri also bakes his potatoes first, before scooping them out of the skins and into the soup. He then finishes it off with shredded cheese to create a luscious soup that's a "cross between fondue and baked potato."
Trisha Yearwood: It's All in the Sour Cream
When Trisha Yearwood wants to cook up her go-to baked potato soup recipe, she doesn't forget the key ingredient; sour cream! Typically one may garnish soup with a dollop on top, but she actually stirs it into the soup as it cooks so that it can absorb all of the extra flavor.
Patrick and Gina Neely: Add the Kicks
This fully loaded cheesy potato soup recipe achieves unbelievably delicious heights through the addition of beer, Worcestershire sauce, and a dash of hot sauce.
Ina Garten: Bring a Bottle of Wine
The Barefoot Contessa deglazes the pan of roasted potatoes and leeks with white wine for her rendition of roasted potato leek soup and suggests scraping any brown bits along the way to absorb up all that caramelized flavor.