Ice Cream Churro Cone | Food Video
Make the Doughnut Ice-Cream Cones That Won Instagram's Heart
Have you guys been salivating over these doughnut ice cream cones like we have? Well unless you're ready to hop on a flight to Prague, we've got a little trick to satisfy your sweet-tooth craving with our own hacked make-it-at-home version! Just think, once you've mastered these sweet desert cones, the possibilities are endless!

Ice Cream Churro Cones
From Heather Platt, POPSUGAR Food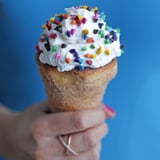 Ingredients
1/4 cup all-purpose flour
1 (16.3 ounce) package biscuit dough, like Pillsbury Grands
1/4 cup granulated sugar
1 teaspoon cinnamon
1 tablespoon unsalted butter, melted
1 cup semi-sweet chocolate chips
1 pint ice cream
Sprinkles
Special equipment:
6 Manila folders
tape
6- 10 inch long foil sheets
Directions
To make the cones: Place oven rack in the bottom part of the oven and preheat oven the 375ºF.
Take a Manila folder and roll into a tight cone, securing the end with a staple or tape. Trim the bottom of the cone so it will stand upright. This will be covered with foil and protected from the heat so it won't burn in the oven. Wrap cone tightly with foil, covering the paper completely and set aside.
Dust work surface with flour, and using a rolling pin, roll out the biscuit dough to for a 1/4-inch thick piece of dough. Wrap dough around cone, and use a splash of water to wet the seam and seal the dough.
Place the cone, base side down on a lightly greased baking sheet. Place the cone in the oven and bake for 8 minutes.
While the cone is cooking mix together cinnamon and sugar in a small bowl and set aside.
Remove the cones from the oven and brush the outside with melted butter. Sprinkle evenly with cinnamon sugar mixture and then return the cones to the oven for an additional 2 minutes.
Remove the cones from the oven and let cool. While the cones are cooling, melt chocolate in a microwave safe bowl in 30-second intervals, or until spreadable. When the cone is cool enough to handle, remove it from the mold and scoop melted chocolate into the cone. Spread it evenly along the inside of the cone and let chocolate harden. Fill the cone with a scoop of your favorite ice cream, toppings, and enjoy!
Information
Category

Ice cream

Yield

Serving Size: 6

Total Time

19 minutes, 59 seconds