Indian Dosa, Marinated Gamberoni, Crunchy Vegetables Recipe
Recreate Indian Street Food at Home With This Marinated Gamberoni Dosa Recipe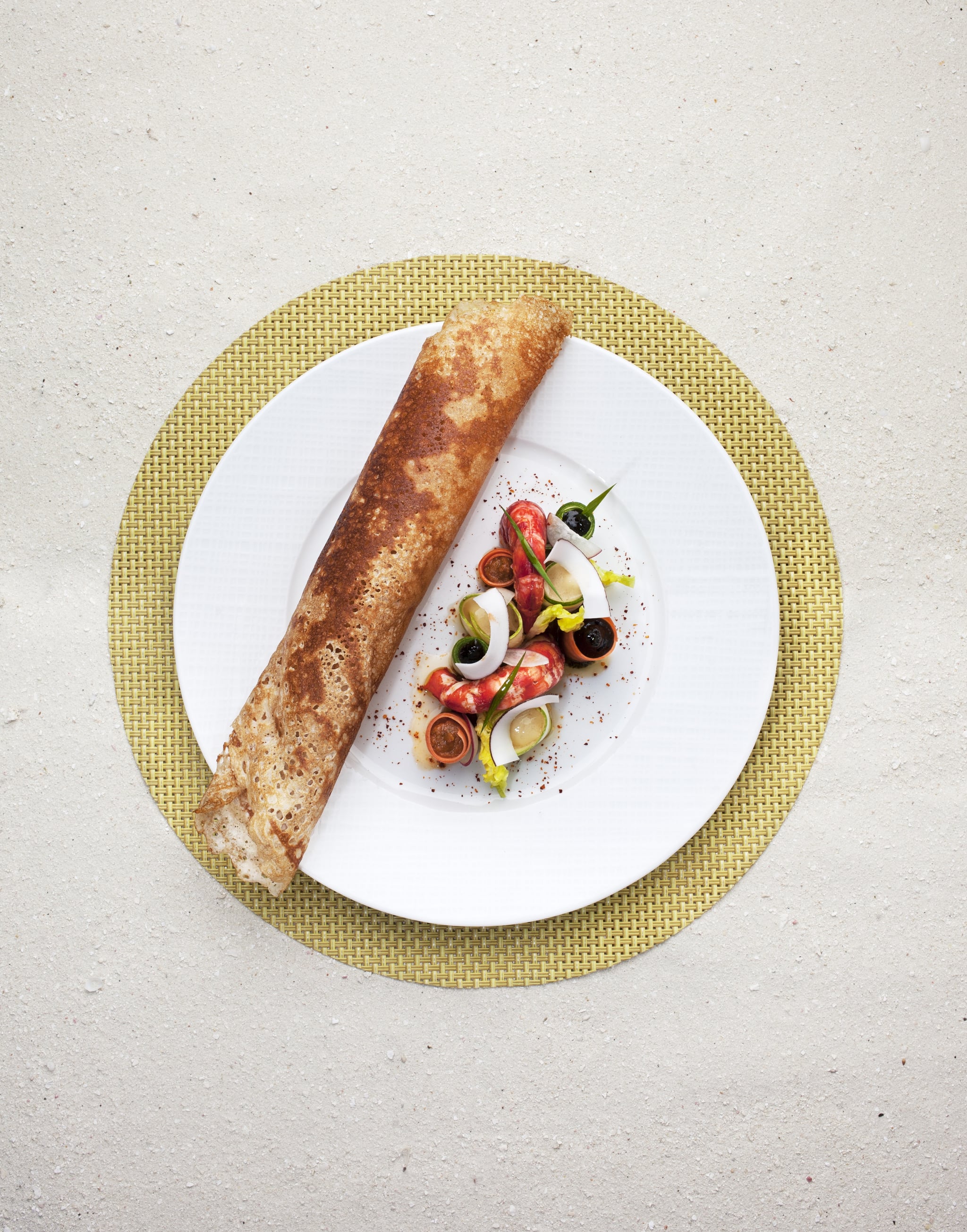 The White Restaurant in Cheval Blanc Randheli, the Maldives, sources ingredients not only from the property's garden but from local markets and suppliers scattered in no less than 25 different countries, from France to Thailand. Here's how to make Executive Chef Laurent Chancel's street food-style Indian Dosa, Marinated Gamberoni, Crunchy Vegetables.
Indian Dosa, Marinated Gamberoni, Crunchy Vegetables
The White Restaurant
Ingredients
DOSA
200g of Dosa Flour
300 ml of Mineral Water
Salt for taste
YUZU PONZU FOAM
500 ml of Yuzu Ponzu Sauce
3 sheets of gelatin
TOMATO SAUCE REDUCTION
300g tomato sauce
GARNISH
1kg Gamberoni prawns
200g of Carrot
200g of Zucchini
50g Fresh hard coconut
120g Gem lettuce
60g of Spring onion
50g Red radish
40g Seaweed jam
40ml Olive oil
40 ml Espelette pepper
Fleur de sel & black pepper for taste
Directions
DOSA
Mix the dosa flour with mineral water.
Add the seasoning and leave the batter to rest for at least 12 hours in the refrigerator.
After resting, gently pour the batter into a nonstick pan in a very thin layer – similar to a crepe.
Cook on low heat to until golden brown, do not flip.
Tip the dosa out of the pan and roll into a scroll shape. Keep warm until ready to serve.
YUZU PONZU FOAM
Soak the gelatin in cold water until softened.
Heat the yuzu ponzu until warm to the touch, mix with gelatin.
Pour the mixture in a siphon, lock and charge with 2 cartridges of CO2.
Leave to cool in the refrigerator until ready to use.
TOMATO SAUCE REDUCTION
300g tomato sauce.
Reduce tomato sauce in a shallow pan over medium heat until one half of the quantity.
Cool.
GARNISH
Slice the carrot and zucchini into long, thin strips.
Roll the strips into cylinders and fill: one carrot with seaweed jam, one carrot with yuzu ponzu foam, one carrot with tomato sauce reduction.
Repeat these same steps for the zuccinni.
Slice the spring onion and crisp in ice water for 5 mins.
Wash the gem lettuce and slice into small leaf-shaped garnishes.
Using a mandoline, thinly slice the coconut.
Sautée the gambas with a touch of olive oil and plate attractively alongside the rest of the garnish.
Season the gambas and vegetable garnish with fleur de sel and espelette pepper, finishing the plate with the rolled dosa.
Information
Category

Main Dishes, Shellfish

Cuisine

Indian

Yield

4