Japanese-Style Pancakes
From Heather Platt, POPSUGAR Food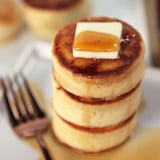 Ingredients
2 large eggs
3/4 cup buttermilk
1/4 cup sugar
1/2 teaspoon vanilla
1/4 teaspoon salt
1 1/2 cups flour
1 teaspoon baking powder
1/4 teaspoon baking soda
2 tablespoons vegetable oil
Directions
In a blender, add eggs, buttermilk, sugar, vanilla, and salt. Blend on the lowest speed for just a few seconds until combined. Add flour, baking powder, and baking soda. Continue blending for 15 to 20 seconds or until the batter is completely combined.
Heat a sauté pan over medium low heat and using a pastry brush, brush the inside of a ring mold with oil. Add remaining oil to pan and place the ring mold in the center of the pan. Let heat up for a few minutes and then pour the pancake batter into the mold until it is half full. Be careful to not add too much because the batter will expand and spill over the side.
Cook the pancake for 4 minutes or until bubbles start to form on the top of the pancake. Use a spatula to carefully flip the pancake and mold over and continue cooking for an additional 3 minutes, or until the bottom of the pancake is golden brown and the inside is no longer runny. Serve stacked with butter and syrup.
Information
Category

Pancakes/Waffles

Yield

Serves 4

Total Time

14 minutes, 59 seconds