Jelly Doughnut Pancake Recipe
Treat Yourself to These Jelly Doughnut Pancakes
If you love pancakes and doughnuts, then get ready, because we've combined them into the ultimate breakfast treat! Filled with sweet strawberry jelly (or any other jelly of your choice) and topped with powdered sugar and even more jelly, this crossover will give you the best of both worlds without the hassle of proofing and frying dough as with traditional doughnuts. Gemma Stafford's unique twist on pancakes is so mouthwatering that aside from opening presents, it'll be your next best reason for getting up on a cold Winter morning!
Plus if you're looking for more great breakfast ideas, check out this berries & cream smoothie bowl on Gemma's channel!
Notes
The secret to thick, fluffy pancakes is to not overmix. Gemma's trick is to stir it enough times to spell P.A.N.C.A.K.E. and then stop. Lumps are OK, so resist the urge to mix more!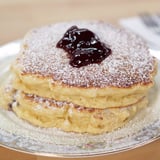 Ingredients
2 cups all-purpose flour
2 teaspoons baking powder
1 teaspoon baking soda
3 tablespoons sugar
1 teaspoon salt
2 cups buttermilk
2 eggs
1/4 cup vegetable oil, plus more for greasing
1 teaspoon vanilla extract
1/2 cup strawberry jam
Powdered sugar for dusting
Directions
In a bowl, mix together flour, baking powder, baking soda, sugar, and salt.
In a separate bowl, whisk together buttermilk, eggs, vegetable oil, and vanilla extract until smooth. Slowly add the wet ingredients to the dry ingredients and start lightly mixing together.
Place batter in the refrigerator for 10 minutes. This helps the butter to chill and bubbles to form in the batter.
Heat a heavy-bottom frying pan or griddle on medium-low heat. Add a little vegetable oil and spoon 1 big spoonful of batter per pancake. While that's cooking, add a small dollop of jam in the middle of the pancake and then top it with 1 more spoonful of pancake batter over the top to conceal it. Cook for roughly 4 minutes on one side. When you see bubbles start to form on the top of the pancake and the edges start to turn brown, they are ready to flip. Flip and cook for an additional 4 to 5 minutes, or until brown.
Remove from heat, sprinkle with powdered sugar, dollop more jelly on top, and enjoy!
Information
Category

Pancakes/Waffles

Yield

4-6 servings

Total Time

39 minutes, 59 seconds