John Legend and Chrissy Teigen's Mac and Cheese Recipes
The Ultimate Mac and Cheese Throw Down: Chrissy Teigen vs. John Legend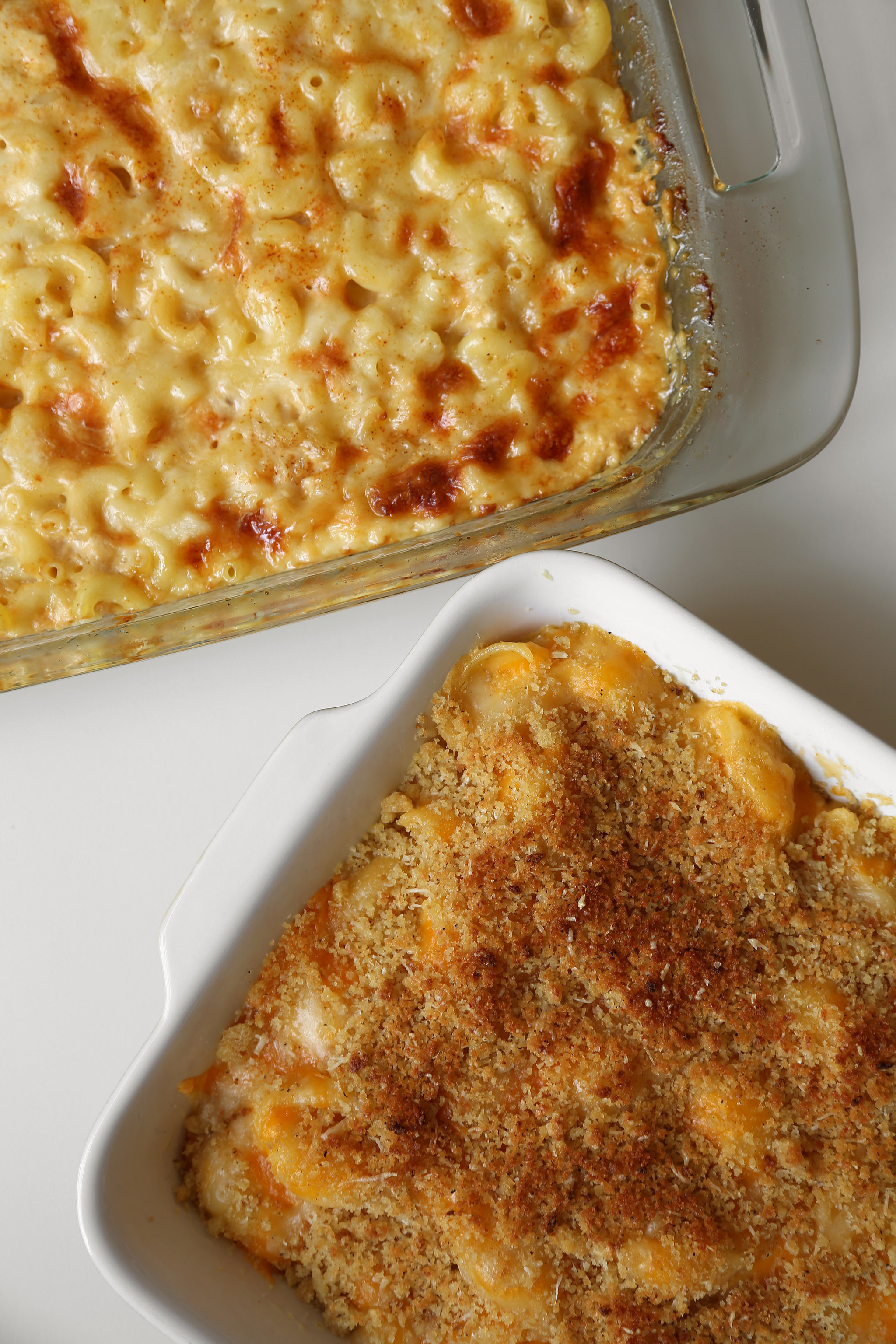 In the Chrissy Teigen and John Legend family, Chrissy is the master chef, except — according to John — when it comes to mac and cheese. John Legend's famous macaroni and cheese recipe has over 600,000 shares, so you know he's doing something right, but when I came across Chrissy's own recipe in her cookbook, Cravings, I was immediately struck by the hilarious diss only she could deliver with an equal dose of sass and love:
This is MY mac and cheese, dammit. Everyone is allllllways asking, begging John to make his amc and cheese and if I may be frank here for a moment: I DON'T GET IT.

I will admit, I like it too, but I prefer a creamy, saucy mac. Mac and cheese that you give to your friends to take home in Tupperware, not sliced and wrapped in foil like a brick.

OK, so maybe I'm bitter. Every single time he makes his mac and cheese, people lose it, like he literally invented mac and cheese. Why? It's because he is a brilliant, handsome, kind, wonderful human being who is incredibly talented and famous who happens to make a good mac and cheese. It's one more talent and whoa we did not see this coming. AMAZE.

I'm sorry, John. I love you so, so much and you are absolutely perfect. My dream man. You write songs about me, love me endlessly, you clean, you help me unpack, and you are a wonderful dog father.

But my mac is better. If you want to try his, google it. These pages are expensive.
Damn. Here at POPSUGAR Food, we take macaroni and cheese very seriously, so we knew what we had to do: a Chrissy Teigen vs. John Legend mac and cheese taste test. Based on the recipes I've already tried from Chrissy (lemony arugula cacio e pepe and chicken pot pie soup), I'm a believer in everything she says (I'm also kind of obsessed with her, so I might be a little biased), but I decided to pull for her recipe from the beginning. My editor took on the task of making John's recipe for the first time, and we brought both into the office for a blind taste test with tons of co-workers.
Meet the Contenders:
John Legend's Macaroni and Cheese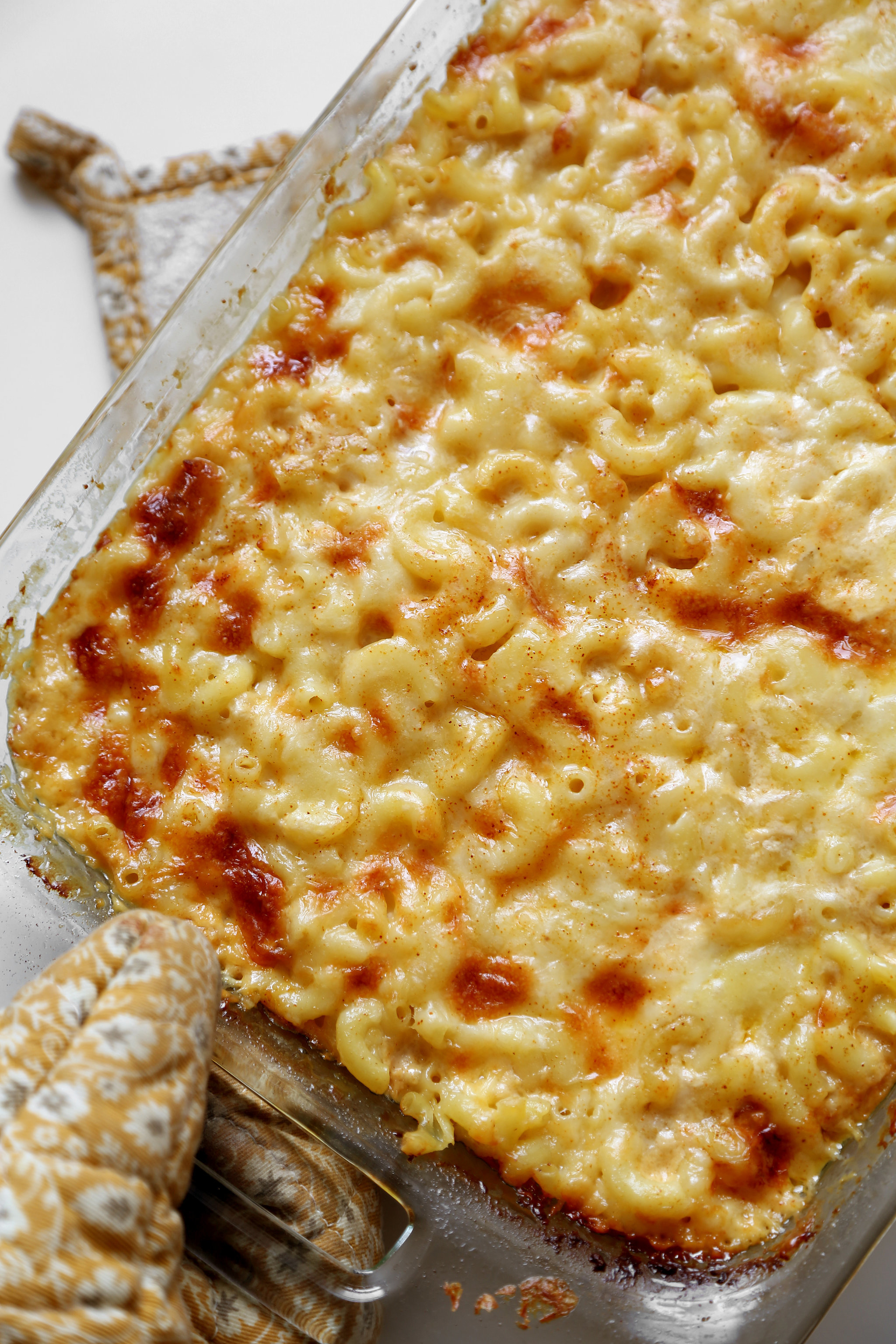 What makes it special: A huge amount of milk and cheese (psst, there are two cans of evaporated milk in here) make this elbow mac ultrarich and cheesy. It's more of a traditional casserole-like macaroni and cheese that you can slice into squares (hence Chrissy's "brick" comment). A combination of cheddar, montery jack, garlic powder, and paprika make it flavorful while letting the simplicity shine. This is like the mac and cheese you would find at a potluck that everyone would eat and really enjoy, but they wouldn't be talking about it the next week.
Chrissy's Mac and Cheese With Cheesy Garlic Breadcrumbs
What makes it special: Hellooo, cheesey garlic breadcrumbs that I am now going to make regularly and put on everything! If you're into more classic mac and hate garlic, this might not be the recipe for you, but if you are into flavor overload and perfection, I suggest you find the nearest copy of Cravings, turn to page 90, and make this immediately. Not only is the top golden brown and crunchy, but the center is oozing with a smooth cheese sauce made of a combination of sharp cheddar, gruyere, and American cheese (trust me, I was skeptical about that last cheese, but it really works here). There's also a dash of cayenne pepper that yields just the right amount of spice. This is what you would make for a dinner party with your closest friends, and no one would leave without asking you for the recipe.
The Taste-Off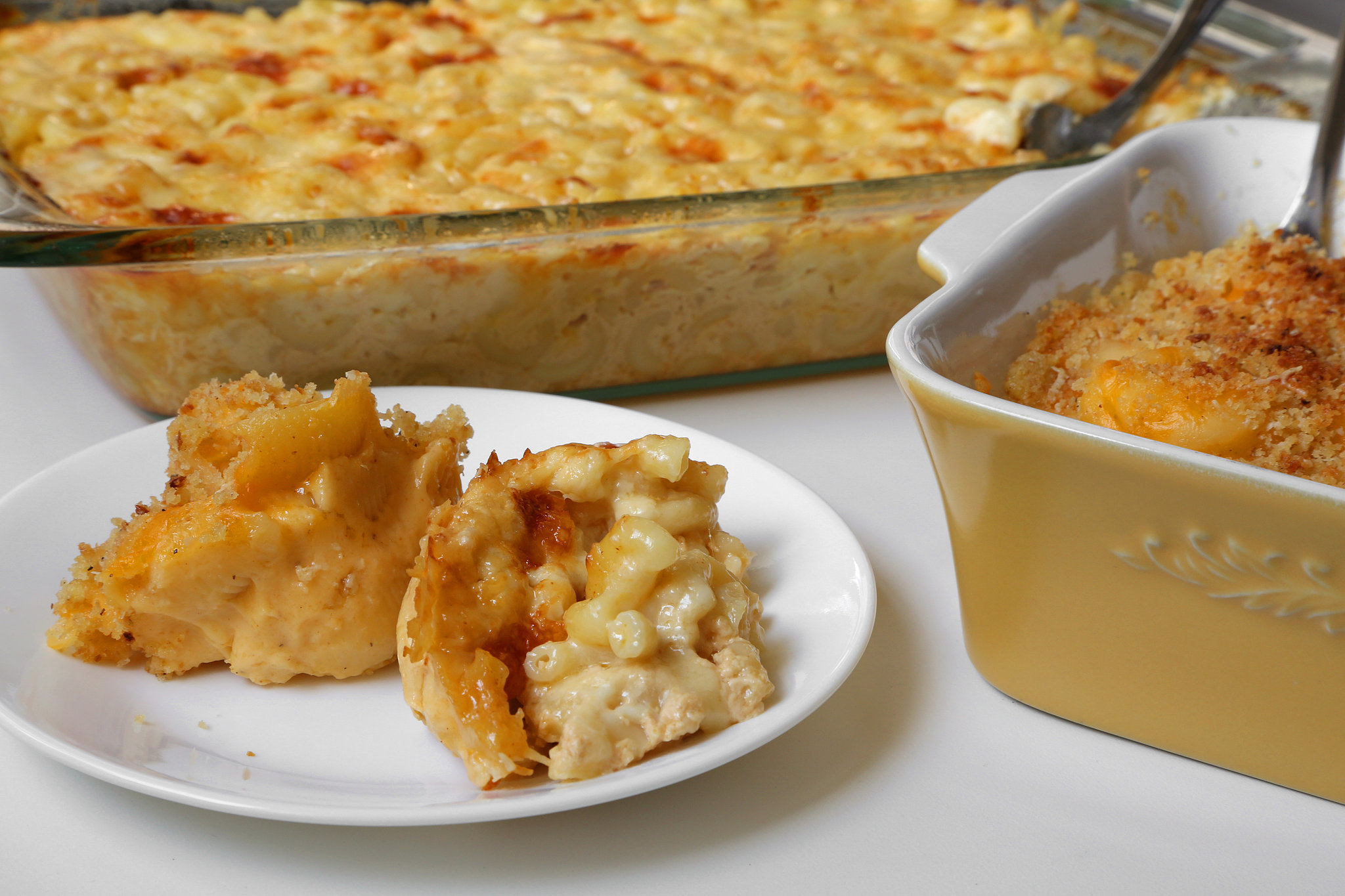 Spoiler alert: Chrissy's is the clear winner. While no one could deny that John's basic macaroni and cheese is good, it just doesn't stand a chance against Chrissy's elevated flavors and cheesy shells. Here's a sampling of some of the comments on each.
Chrissy's:
"OMG!! Life is complete."
"I think I levitated a little and heard the hum of an angel when I had it."
"The texture, spice, flavor, and large shells really make this mac the winner."
"Garlic cheese explosion — those breadcrumbs are a perfect complement. The cheese sticks in and around the shells to make a ravioli effect."
"WTF. Everything . . . especially the garlic breadcrumbs and sharp cheddar sauce."
"Perfection."
John's:
"Super cheesy and rich; very traditional. Sort of wish there was more spice."
"Standard. Very classic."
"Typical mac and cheese you'd find at the Thanksgiving table."
"Classic mac. Nothing special."
"This would make an awesome side dish. I want it with some spicy fried chicken and collard greens."
"This is pretty standard mac and cheese. Nothing too life-changing but great."
And the people have spoken. Crunchy, garlicky, cheesy perfection wins over tradition. We've decided there's only one last thing to do: combine the two. We're going to call it John and Chrissy's mac and cheese baby — baby Luna mac and cheese, if you will (stay tuned). John, you can have your Grammy awards, but Chrissy Teigen 100 percent wins the mac and cheese award.
Image Source: POPSUGAR Photography / Anna Monette Roberts