LEGO Jell-O Gummies
From Kevin Smith, POPSUGAR Food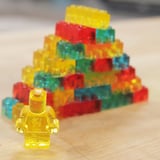 Ingredients
6 ounces Jell-O
3 packets gelatin
1 cup cold water
Special tools:
LEGO Silicone Mold
Directions
Combine all ingredients in a pot and stir to dissolve the powders into the water.
Turn the heat on low to low-medium, stirring frequently. Remove from heat once it starts to boil, about 5 minutes. Pour into a container.
Allow it to sit for 5 to 10 minutes. The light foam will rise to the top and form a layer you can skim off.
Pour the Jell-O mix into the molds, filling them all the way up. Place the lid on top and refrigerate for about an hour.
Pop out of the molds and enjoy!
Information
Category

Snacks

Yield

50 Gummies