Lamb Shank Wrap
This Dubai Restaurant Turns an Indian Menu Into Celebrity Puns, So Ordering Has Never Been More Fun
Hen Stefani, Robert Paneer-o … just a couple of pun-tactic names from the menu at Roti Rollers. The restaurant has two branches in Dubai under the direction of Master Chef, Samer, and aims to overcome the stigma of Indian food being greasy and spicy. Check out the recipe below for their Lamb Shank Redemption (get it?).
"Lamb Shank Redemption" Wrap
Roti Rollers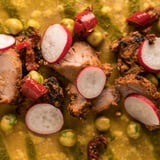 Ingredients
90g Aata (whole wheat flour)
30g Coriander
130g Lamb boneless - shoulder part
3g Wasabi peas
1g Black salt
3g Red chili pickle
8g Red radish
80g onion, red julienne
55ml Water
4g Salt, cooking
2g Green chilly
5ml Lime juice
30g Green papaya
5g Ginger-garlic paste
2g Degi chilly powder
1g Garam masala powder
1g Mace powder
1g Green cardamom powder
20ml Mustard oil
40g Tomato
2g coriander powder
1g Turmeric powder
Directions
Cut lamb into 40g pieces each, marinate with papaya paste, ginger & garlic paste, salt, mustard oil, degi chilly, garam masala, mace powder and cardamom powder for 6 hours, skewer and cook in oven at 350 (moderate heat) for 15 minutes or just done, remove, slice thinly and keep in a bowl for usage.
Make pliable dough with whole wheat flour, 1g salt and water. Roll out dough to 14" diameter, cook quickly on hot griddle without any fat, till its cooked without any brown spots appearing, keep it covered with a cloth for next step.
Prepare coriander chutney with coriander, green chilly, salt, black salt and lime juice.
Heat oil in a pan, saute onion till golden brown, add ginger & garlic paste, tomato, coriander powder, turmeric powder and salt. Cook until oil start separating, blend until smooth and keep aside.
Spread roti, sprinkle coriander chutney and tikka masala sauce generously, arrange lamb kebab, top with onion, red chilly pickle, dill, wasabi peas, and red radish.
Close roll, arranging ingredients as tightly as possible.
Finish on Panini grill till it has crisp sides with deep golden marks (25-30 seconds).
Information
Category

Sandwiches

Yield

8