Le Cirque's Tomato au Fromage de Chevre
NYC's Le Cirque Has Opened in Dubai and They're Bringing This Goat Cheese & Tomato Tart With Them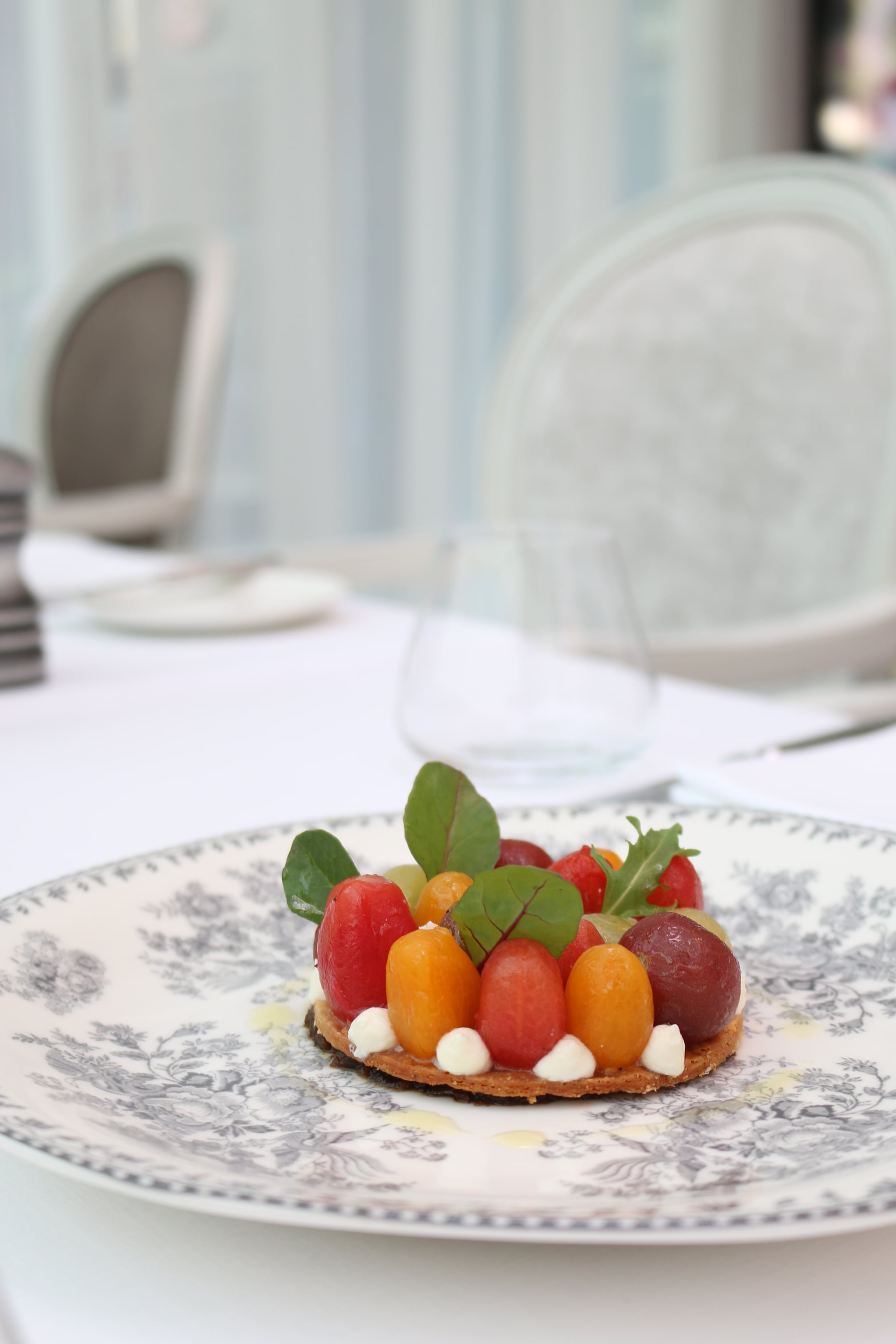 Le Cirque, a favorite restaurant of the stars in New York, has opened up a branch in Dubai's Ritz Carlton DIFC and it brings the best European cuisine to Middle Eastern diners. We've got our hands on the Tomato au Fromage de Chevre (tomato and cheese tart) recipe and we promise this is one you'll want to create at home again and again.
Tomato au Fromage de Chevre
Le Cirque
Ingredients
FOR THE MARINATED TOMATOES:
Cherry tomatoes
Olive oil
Garlic
Thyme
Lemon juice
Tomato juice
Goat cheese mousse
200g goat cheese
100g double cream
Salt
Pepper
FOR THE ONION CHUTNEY:
White onion
Balsamic reduction
Olive oil
Salt and pepper
FOR THE CHEESE SABLE:
300g goat cheese
250g flour
250g butter
Tom berries
Mixed leaves
Olive oil
Directions
Peel the tomatoes and leave them to marinate for at least 4 hours.
With a whisk, work the cheese and add the cream. Continue to whisk until you have a smooth
texture. Season with salt and pepper and transfer to a piping bag.
Chop the onions and sauté them in a pan, with olive oil. Add the vinegar and let it reduce slowly
until you get a chutney consistency (similar to a jam).
For the Sable, work the butter until you get a smooth consistency. Add the goat cheese and mix
it well in the butter. Whisk in the flour and cool down in the fridge wrapped in cling film. Once
completely chilled, transfer it to a table with flour and use a rolling pin until you have the dough
with 2mm thickness.
With a cutter or a knife cut in circular shape with 6cm diameter.
Cook it for 15 minutes at 160C.
To assemble:
Spread the chutney in the plate with the same diameter of the Sable and cover with the Sable.
Plate the marinated tomatoes on the top, pipe the cheese in the small spaces between the
tomatoes around the "tart".
Top it with some mixed leaves and use good olive oil to season the tart.
Bon appetit!
Information
Category

Appetizers