Le Classique Dubai's Around the Tail Quail Tomato Confit
This Crispy Quail Dish Will Help Meat Lovers Broaden Their Horizons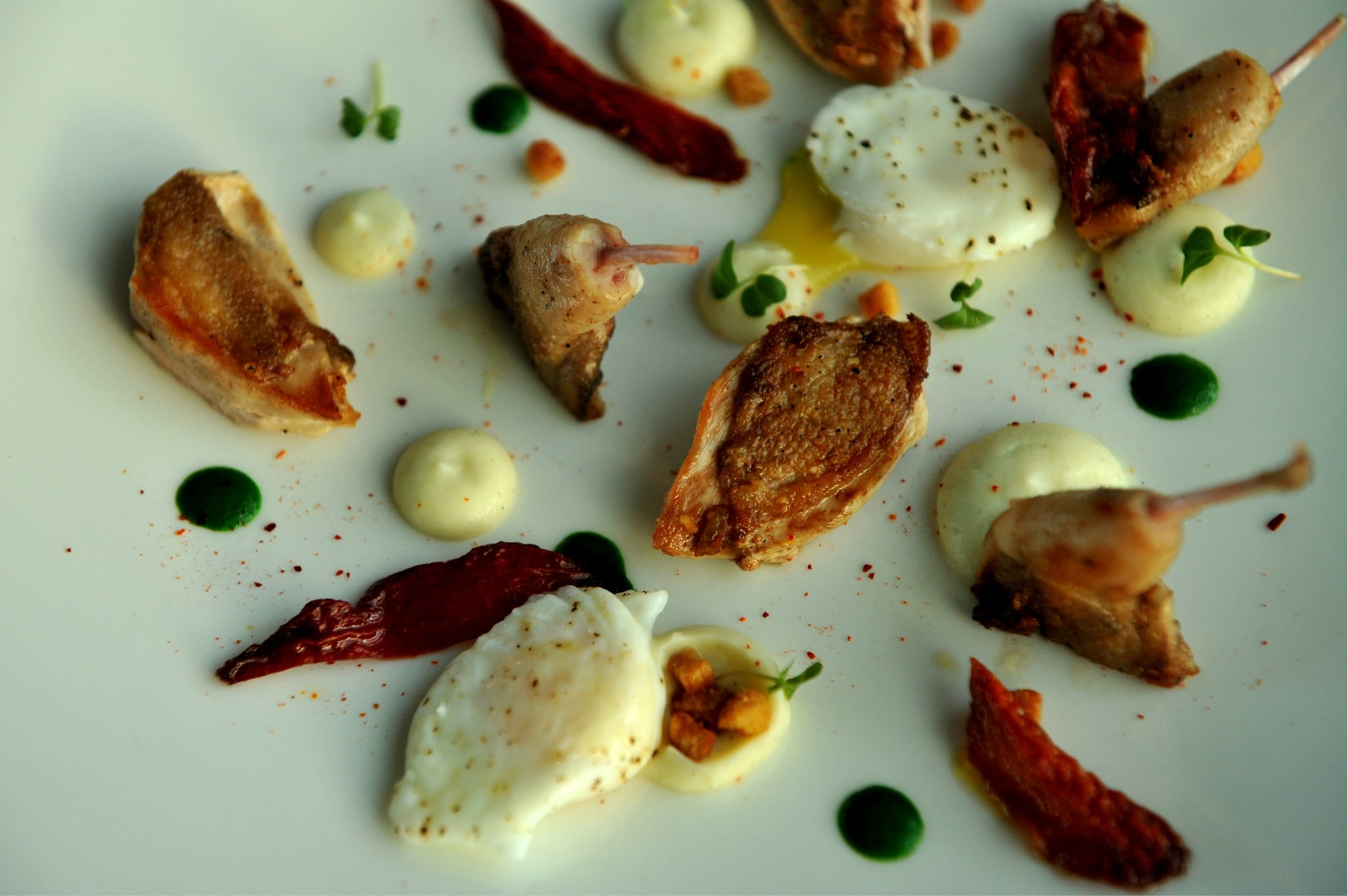 You won't want to miss out on this Around the Tail Quail Tomato Confit from French restaurant Le Classique at Emirates Golf Club. If you're tired of ordering the chicken, this dish is the perfect one to help you broaden your meaty horizons. Learn how to make it at home exactly like the chefs do in the restaurant, and with 25 years on the foodie scene in the Dubai, Le Classique must be doing something right.
Around the Tail Quail Tomato Confit
Le Classique
Ingredients
3 tomatoes
2 cloves of garlic
50g olive oil
200g/2 pieces parsnip
30g white vinegar
250g cream
20g chopped parsley
Xanthan gum (found in health stores and high end supermarkets)
8 quail eggs
4 pieces quail
Sugar to taste
Thyme to taste
Salt and pepper for seasoning
Directions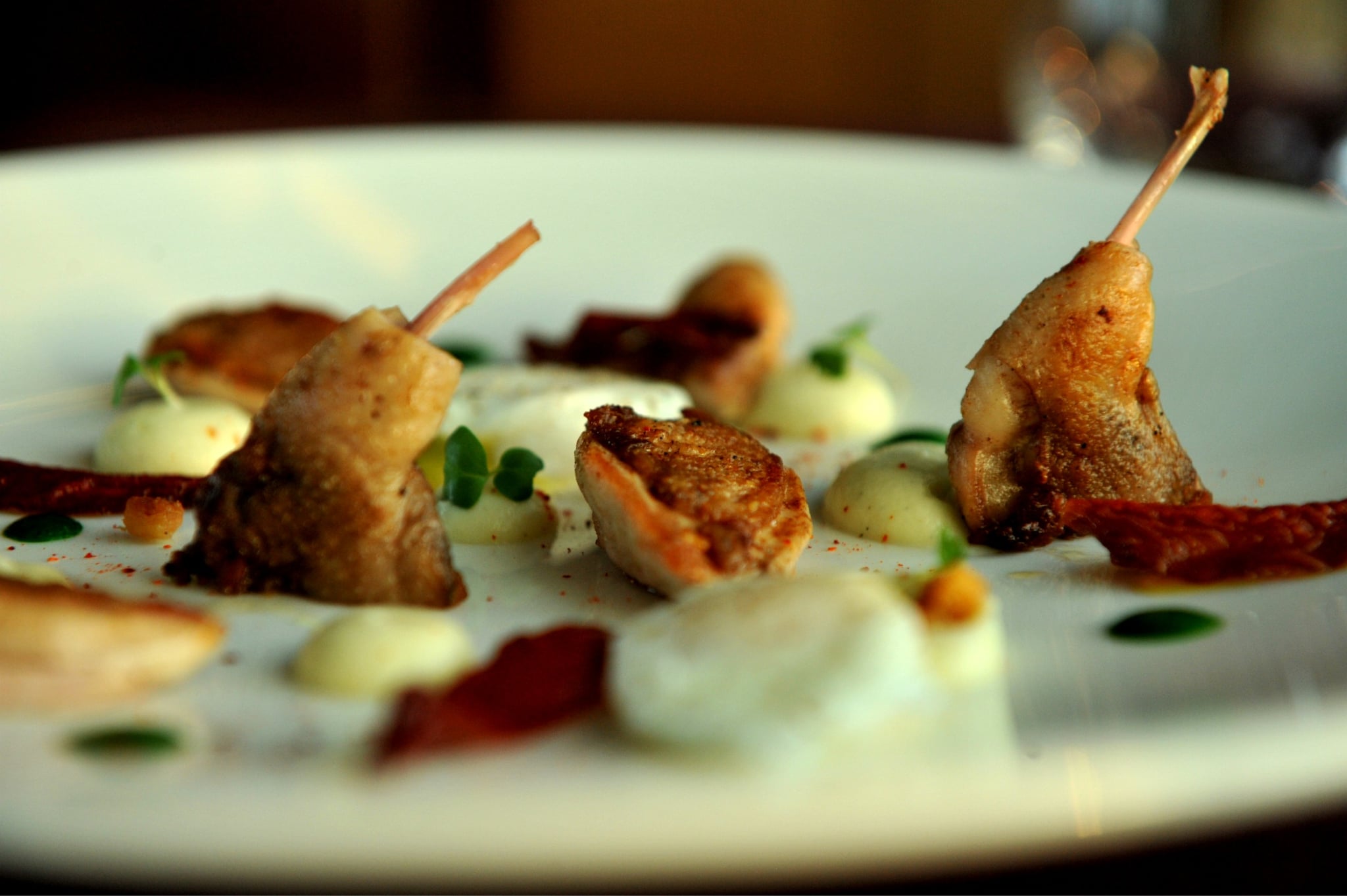 POACHED QUAIL EGGS
Fill pot with water, bring to the boil and add white vinegar, mix well.
Add your quail eggs and cook each for 30 seconds, remove and place immediately in ice water to cool.
PARSNIP PUREE
Peel and dice the parsnip, place in a pan, add the cream, salt and pepper cook until soft.
In a mixer, blend the mixture into a smooth purée.
PARSLEY SAUCE
Blanch the parsley in boiling water for 2 minutes and cool.
Once cooled, mix in xanthan and mix.
Add some water if mixture gets too thick - pass through a chinois sieve.
TOMATO CONFIT
In the hot water, place the tomatoes for 30 seconds then remove and immediately place in ice water to cool.
Remove the skin, cut in quarters and remove the seeds.
Place the tomatoes on a tray and top with olive oil, sugar, salt, thyme and sliced garlic.
Cook in the oven for approximately 3 hours at 80 degrees.
QUAIL
Filet the quail (separate the breast and the legs) and season them with salt and pepper.
Heat olive oil in a pan - add the legs first as this takes longer to cook (4 minutes on each side).
Follow with the breast skin side down for 1.5 minutes per side.
Finish with butter.
ASSEMBLE
In a round plate, add dollops of parsnip purée with a spoon or a squeeze bottle.
Randomly lay the quail legs and breast on the plate and the quail eggs alongside it.
Add drops of the parsley sauce with a spoon or piping bag and lay the tomato confit.
Sprinkle with pepper.
Information
Category

Main Dishes

Cuisine

French

Yield

4