Lemon Tart Cheval Blanc Rendhali
This Lemon Tart Chef Recipe Will Make Your Dinner Party a Hit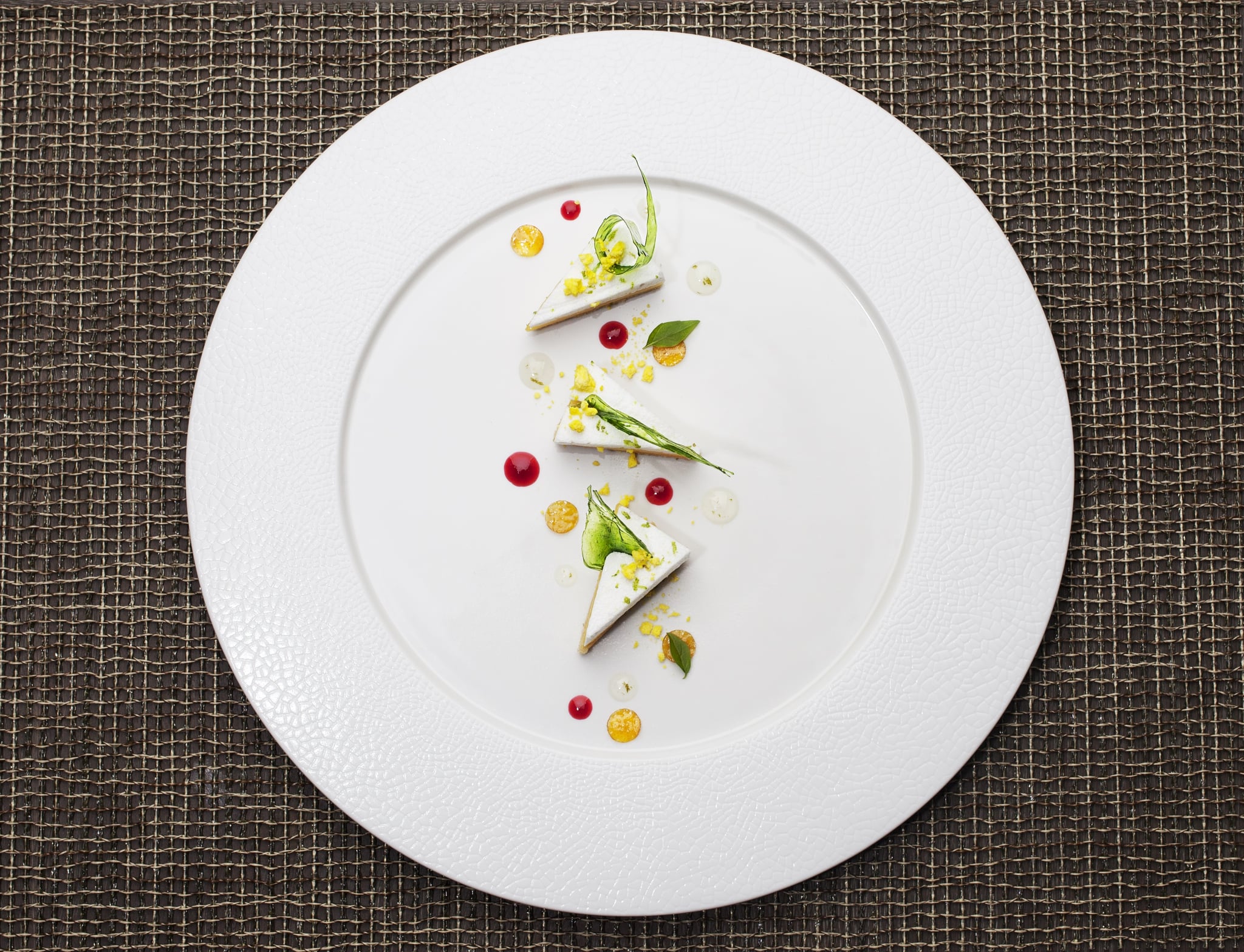 Executive Chef Laurent Chancel sources ingredients not only from the property's garden but from local markets and suppliers scattered in no less than 25 different countries, from France to Thailand. Here's how to make the Lemon Tart dessert from Le 1947 restaurant at Cheval Blanc Randheli in the Maldives.
Ingredients
CRUNCHY SWEET DOUGH
Soft Butter: 356g
Fleur De Sel: 1g
Icing Sugar: 133g
Egg Yolk: 15g
Flour: 356g
Corn Starch: 74g
LEMON CURD
Lemon Juice: 540g
Lemon Peel Zest: 46g
Sugar: 770g

Cream: 785g
Fresh Egg: 1232g
Gelatin Sheets: 18g
FRENCH MERINGUE
Sugar: 100g

Egg White: 100g
Icing Sugar: 100g
SOFT MERINGUE
White Egg: 125g
Sugar: 100g
RASPBERRY COULIS REDUCTION
LEMON CONFIT
Water: 400g
Lemon Juice: 150g
Sugar: 150g
Lemon Zest Peel: 3pcs
LIME GEL
Neutral glaze: 100g
Lime zest: 1.5 pieces
Directions
CRUNCHY SWEET DOUGH
Preheat the oven to 165°C.
With a wooden spoon, beat softened butter with salt and sugar.
Add the egg yolk and fleur de sel.
Sift flour and corn starch together.
Add the flour mixture to the butter in three batches, stirring to combine after each addition.
Wrap with cling film and chill for 30 minutes.
Cover a baking sheet with baking paper.
Roll the dough to 4mm on the baking sheet.
Cook in [reheated oven for 5 minutes, then remove and score into triangles.
Place the part-cooked dough back into the oven and cook for another 7-8 minutes until a blonde color.
LEMON CURD
Combine juice, zest, egg, sugar and cream. Chill overnight.
Cook the mixture over a water bath, stirring constantly, until the mixture reaches 82°C.
Bloom the gelatin in cold water.
Add the softened gelatin to the warm lemon mixture and pour into a 40x40cm silicone mould.
Chill to set.
FRENCH MERINGUE
Whip egg whites until soft peaks, slowly add the sugar teaspoon by teaspoon and whip until stiff, shiny peaks form.
Place into piping bag and pipe small lines onto a baking sheet lined with baking paper.
Bake at 60°C for 3 hours.
SOFT MERINGUE
Whip egg whites until soft peaks form, slowly add the sugar teaspoon by teaspoon and whip until stiff, shiny peaks form.
Pour onto a 40x40cm silpat and cook in a steam oven at 100°C for 7 minutes.
LEMON CONFIT
Blanch the lemon zest in boiling water. Throw out the water and blanch again. Repeat until the lemon zest has been boiled 4 times.
Place all ingredients in a heavy bottomed pot, cook on medium heat until the zest becomes transparent with a syrupy finish. Reserve.

Using the triangles of pastry crust as a guide, cut identical triangles of the set lemon curd and steamed meringue. With the pastry on the bottom, stack with a triangle of the lemon curd, then of the meringue. Place attractively on plate. Garnish with punched circles of the glazed lemon zest, crunchy meringue sticks. Optional for color, garnish with baby lemon-basil leaves and raspberry coulis.
Information
Category

Desserts, Pies/Tarts

Yield

4

Total Time

1 hour, 29 minutes, 59 seconds