Lucky Charms Milkshake
This Lucky Charms Milkshake Is Equal Parts Absurd and Delightful
If you've been drooling over those insane milkshakes from Black Tap in New York and wishing you could take a sip out (without heading to The Big Apple) - worry not! We'd like to introduce you to our very own crazy creation the Lucky Charms milkshake! Equal parts childhood memories and pure, minty, sweet deliciousness. And the best part? You can have this one anytime you want!

Lucky Charms Milkshake
From Alyssa Noui, POPSUGAR Food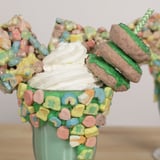 Ingredients
For Lucky Charms treats:
Non-stick cooking spray
1/2 cup butter, divided
4 cups minimarshmallows, divided
3 cups Lucky Charms
3 cups Lucky Charms marshmallows only, plus 1/4 cup for rimming glass
For mini doughnuts:
1 1/2 cups powdered sugar
3 drops green food coloring
2-3 tablespoons milk, plus more if needed
3 Entenmann's cinnamon popettes
Green sprinkles, for garnish
Gold flakes, for garnish
For shamrock shake:
2 cups vanilla bean ice cream
1/4 cup half and half
5 drops peppermint extract
5 drops green food coloring
Whipped cream, for garnish
Straw
Wooden skewers
Directions
To make Lucky Charm treats: Grease an 8x8-inch pan and set aside.
Melt 1/4 cup butter in a small sauce pot over medium-low heat. Add half mini-marshmallows and stir until completely melted. Reduce heat to low and stir in Lucky Charms cereal. Grease hands and press marshmallow cereal mixture into pan in an even layer.
Return pot to heat and add remaining butter and mini-marshmallows. Stir until melted. Remove from heat and add Lucky Charms marshmallows. Stir to combine and then turn out mixture on top of the cereal mixture. Press evenly and let set for 30 minutes, or until the treats are at room temperature. Cut into squares. Store any leftovers at room temperature for up to 4 days.
To make doughnuts: Add food coloring to powdered sugar, and add milk 1 tablespoon at a time until the icing is thin enough to spoon but thick enough to coat. Use a brush to brush off any excess cinnamon off the doughnuts, and then dip the top into the icing. Decorate with sprinkles and gold flakes, as desired, and set aside.
To make milkshake: In a blender, combine ice cream, half-and-half, peppermint extract, and food coloring. Blend for 30 seconds, or until smooth.
To assemble: Rim glass with green frosting and dip in Lucky Charms marshmallows. Fill glass with mint milkshake. Top with whipped cream. Place a straw in the shake and garnish the straw with 3 mini doughnuts. Use skewers to stack 2 Lucky Charms treats in the glass. Serve immediately.
Information
Category

Shakes

Yield

Serves 1

Total Time

39 minutes, 59 seconds