Mango Shrimp Salad From Bahria Restaurant Dubai
Mango Shrimp Salad is the Tasty Revival Your Healthy Lunchbox Needs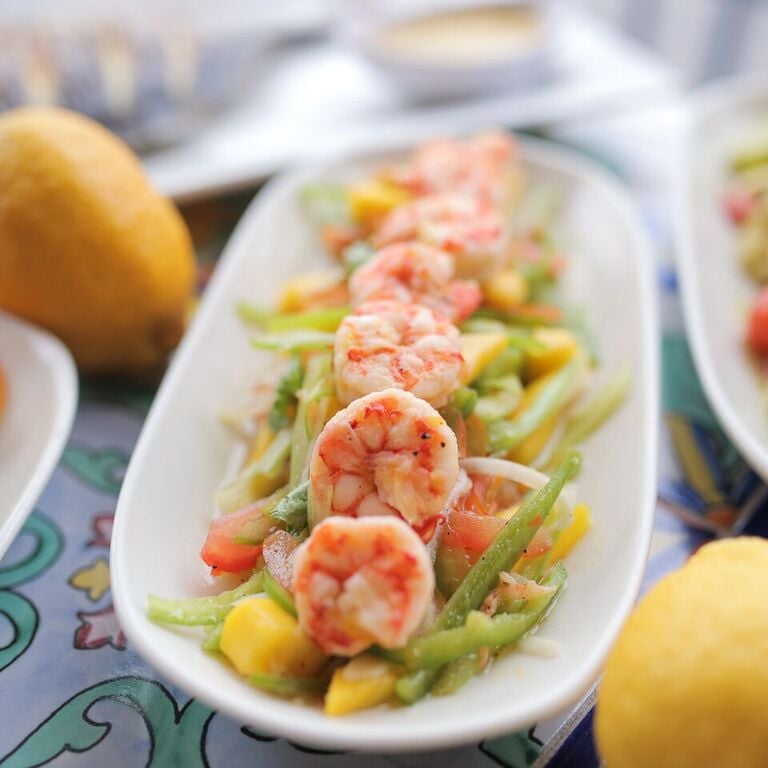 The unique Mango Shrimp Salad is served up by Chef Awad at Bahria Restaurant in Dubai's JBR. Now you can whip up the delicious seafood dish in your very own kitchen.
Mango Shrimp Salad
Bahria restaurant
Ingredients
Mango - 150 gm
Colored capsicum - 100 gm
Celery - 50 gm
Black pepper- 2 gm
Green onion - 50 gm
Olive oil - 10 gm
Shrimp - 200 gm
Fresh coriander - 2 gm
Lemon - 2
Directions
Add a slice of lemon to water and boil around 200gm of shrimp for about 5 minutes.
Transfer the shrimp to a tray and let it cool for a while.
Carefully remove the shrimp skin and mix it in a bowl of sliced mango (marinated with 1/2 lemon juice), celery, colored capsicum, green onion, squeeze of lemon, olive oil and fresh coriander.
Add in black pepper and salt for taste and give it a nice toss.
The salad is best served cold, so if you are not serving right away, place it in the refrigerator to chill.
Information
Category

Appetizers, Seafood

Yield

2

Total Time

4 minutes, 59 seconds