Mario Batali's Tips For Cooking Like an Italian
Mario Batali: How to Cook Like an Italian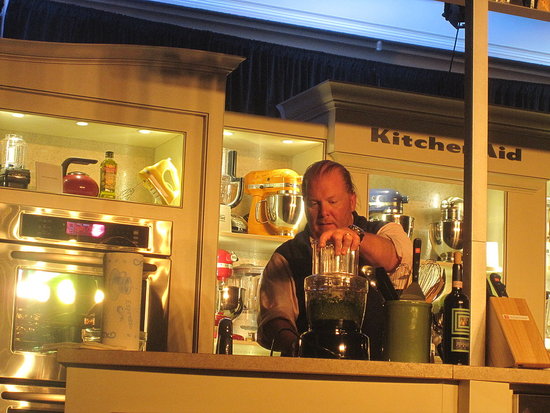 One of my favorite demos at the Food & Wine Classic was Mario Batali's Best of Ligurian Cooking. It's been awhile since I watched his old show on Food Network, Molto Mario, and I'd forgotten how entertaining and knowledgeable the chef is. When it comes to cooking Italian cuisine, no one understands it as much as Batali. While boiling shellfish and blitzing up pesto, he shared much of his expertise with the crowd. To see how he recommends channeling your inner Italian, keep reading.

Italian cuisine is a celebration of regional food. If the city you live in is known for a certain cheese, chicken, or chile pepper, you should most definitely be cooking with it.
When you go to the store, purchase the best quality ingredients you can afford.
Establish relationships with your grocers. "Become friends with your fish monger, and the next time he gets a beautiful fillet of fresh fish in, he'll call you up and let you know it's arrived."
In recipes that call for wine, use inexpensive but good wine.
Cook with fresh ingredients as much as possible. Mario says, "the only two processed items I support are canned beans and frozen peas."
Don't forget about the texture of ingredients. Batali adds minced and rough-chopped chives to salads because it gives each bite a different texture.
Consider all of your ingredients. "When you put salt and olive oil in everything, shouldn't you take the time to find the best salt and olive oil? It will affect the way your food tastes."
Pesto should never be too liquidy, it should be thick and paste-like.
For perfectly al dente pasta, cook it one minute less than the package recommends.
Always make your own breadcrumbs. "Do not succumb to the blue can."
Avoid masking the flavor of seafood. "Italians enjoy the taste of shellfish. They aren't looking to change the flavor; they want to understand the deliciousness that is the clam itself. They like to taste the sea."
What do you think of Batali's tips? Do you agree with them?