MasterChef Australia Interview Matt Preston
Dubai Has So Many Restaurants, Even Matt Preston Needs To Google Them
When it comes to household names, Matt Preston is as much one, as say Justin Bieber and Justin Timberlake. Only while the latter are known for their soulful tunes, Preston is known for his extensive food knowledge and for his love of eccentric fashion, which often see him don vibrant monochrome suits, with a scarf to match. A showman, fashion icon, and genuinely nice guy – those are the three adjectives that we would use to describe the "MasterChef Australia" judge and host, who was in town to promote Dubai's latest dining venture, MasterChef, the TV experience – a culinary hub, with a promise of delivering MasterChef talent and recipes to its guests, when it opens in Millennium Marina Place this April.
For our interview, however, we decided to focus on all the things we've always wondered about Preston. Like what sparked his interest in food, what his favorite Middle Eastern dish is, and what his thoughts on food trends are. Fortunately for us, Preston had a lot to say.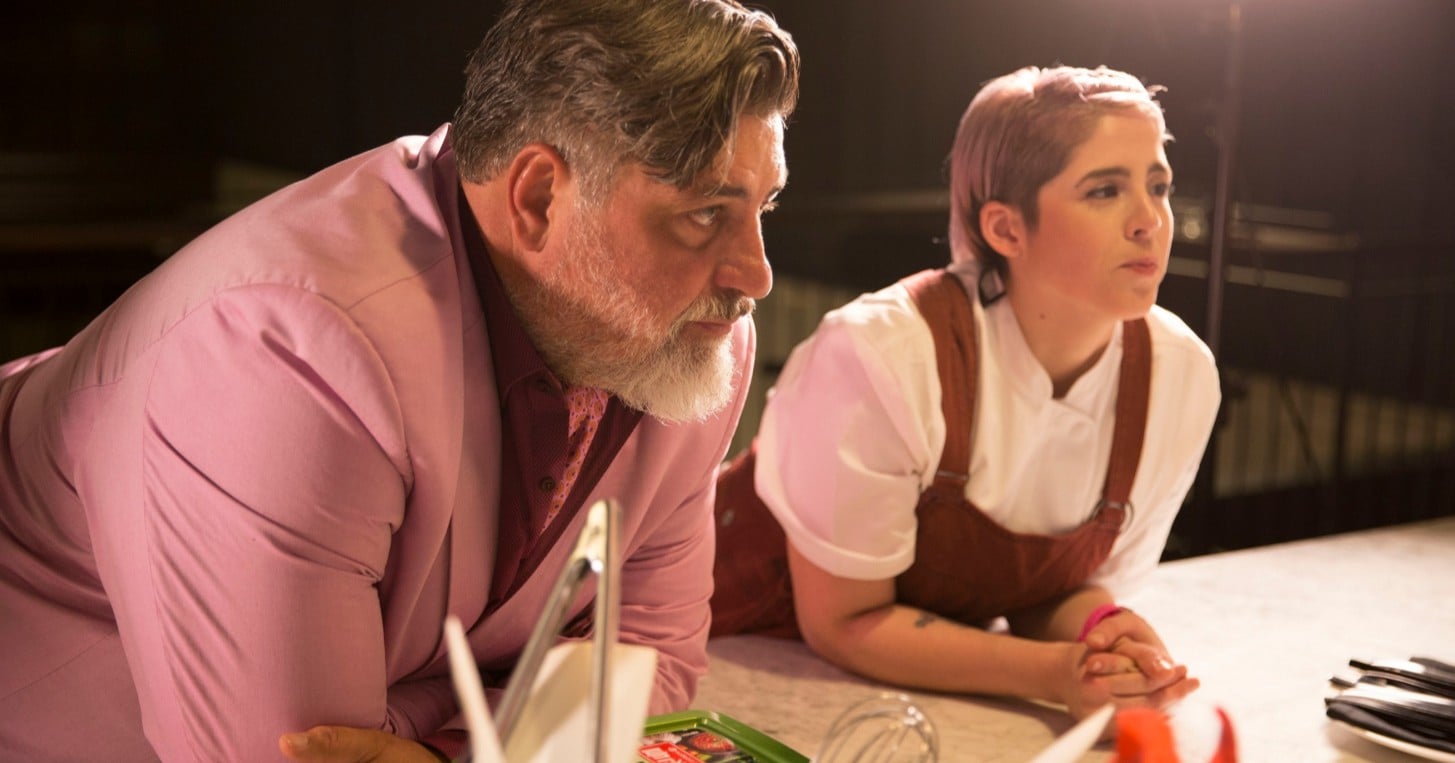 Supplied/ Action Global Communications | Matt Preston with Maria 'Margarita' Vaamonde-Beggs, the head chef of MasterChef, the TV Experience
Matt, before we start, I just have to say that I'm loving the pink suit!
[Laughs] Thank you, and before we start, tell me where your accent is from? I've travelled to many countries and, can't seem to place it…
South Africa, have you been?
Many a times. I love the food, culture, and the people are incredible.
Thank you, I grew up watching you on TV. So, I can say that they are massive fans of yours, too. Speaking of food, how did your love for the culinary arts start?
My grandmother used to grow her own vegetables and, when I was about three or four, I would spend most of my time with her in my grandfather's big plot of land, that had greenhouses and veggie patches. As I got older, I would help my other nan, who was a truly shocking terrible cook – she was really bad, make the usual football snacks and, it all started from there.
Your mom doesn't cook then?
[Laughs] she has a repertoire of about nine dishes, but, regardless, I love her very much.
So, that's where the love of food started, how did you turn that passion into a career?
Well, I had a good friend called Caroline Roessler, and she rung me up about 20 years ago, asking if I wanted to write a restaurant column for her magazine called "New Weekly". I jumped at the chance – quite literally. I started traveling more and doing extensive research of the origins of specific dishes and, my love and knowledge of the art just expanded. I felt much like our contestants on "MasterChef". Like a sponge, taking in as much knowledge as possible, in as little time as possible.
On the topic of "MasterChef", do you have a favorite anecdote that you would like to share?
That's a difficult one. I split all of my memories into two categories. The first is contestant dishes and, the second is moments. I work with two of my best friends [Gary Mehigan and George Calombaris] so, that folder – as you would imagine, is pretty full. Some of them include us just sneaking away to eat dumplings at the local and, other's include me being my usual cheeky self, and locking Gary outside of restaurants in torrential rain… I tease him a lot, but it comes from a good place.
Brotherly love, ey?
You know it.
What about "MasterChef" contestants? Do you have a favorite?
We're currently filming Season 11 of "MasterChef Australia" and, there's this guy that's literally just had a break through – you know the moment when everything just starts to click and, suddenly after weeks of doing horribly, you start smashing it? That's what's happening with him. He reminds me a lot of the winner of Season 2 (Adam Liaw) and Andy Allen, the winner of Season 4 of "MasterChef Australia". So, for now, I would say that it's him.
You're in town promoting MasterChef, the TV experience – tell me, do you have a favorite restaurant in Dubai?
To be honest, I don't. We filmed Season 5 of the series here and, everything has changed so much. I don't recognize anything. The city really is growing at such a rapid pace. But no, I don't have a favorite. Because all of my knowledge of the city's dining options, come from online research… I would love to try a few, maybe next time. Even though I haven't been to many of the city's restaurants, I can tell you that Dubai has a thing for food trends. It seems to react very quickly to them. It will be interesting to see what the next one will be.
Which have you spotted during your stay?
Peruvian, I've read about so many Peruvian restaurants in Dubai as well as vegan. The city seems to be all about that at the moment.
With regards to food trends, which has been your least favorite?
Drinking out of jam jars. It is absolutely ridiculous and, it just looks idiotic. Anything that values style over substance is something that I don't care about, at all.
Back to food, do you have a favorite Middle Eastern dish?
That's an easy one. Ful (cooked fava beans, served with vegetable oil, cumin, chopped parsley, garlic, onion, lemon juice and, chili pepper). So simple, so delicious. I'm also a massive fan of Mandi biryani. I discovered it during a visit to the UAE, a few years about and, instantly fell in love. I loved it so much, that I included a recipe of how to make it, in my last cooking book, Yummy, Easy, Quick.
If you missed Preston's appearance at Taste Of Dubai, you can catch him, Mehigan, and Calombaris on the small screen when Season 11 of "MasterChef Australia" premieres later this year.