McDonald's Oreo Tiramisu
Make Your Own McDonald's Oreo Tiramisu and Experience the Magic
If you're as excited as we are about McDonald's Hong Kong's Oreo-themed menu, you're in the right place! This take on the Oreo tiramisu is fluffy, sweet, and loaded with coffee plus cookies-and-cream flavor.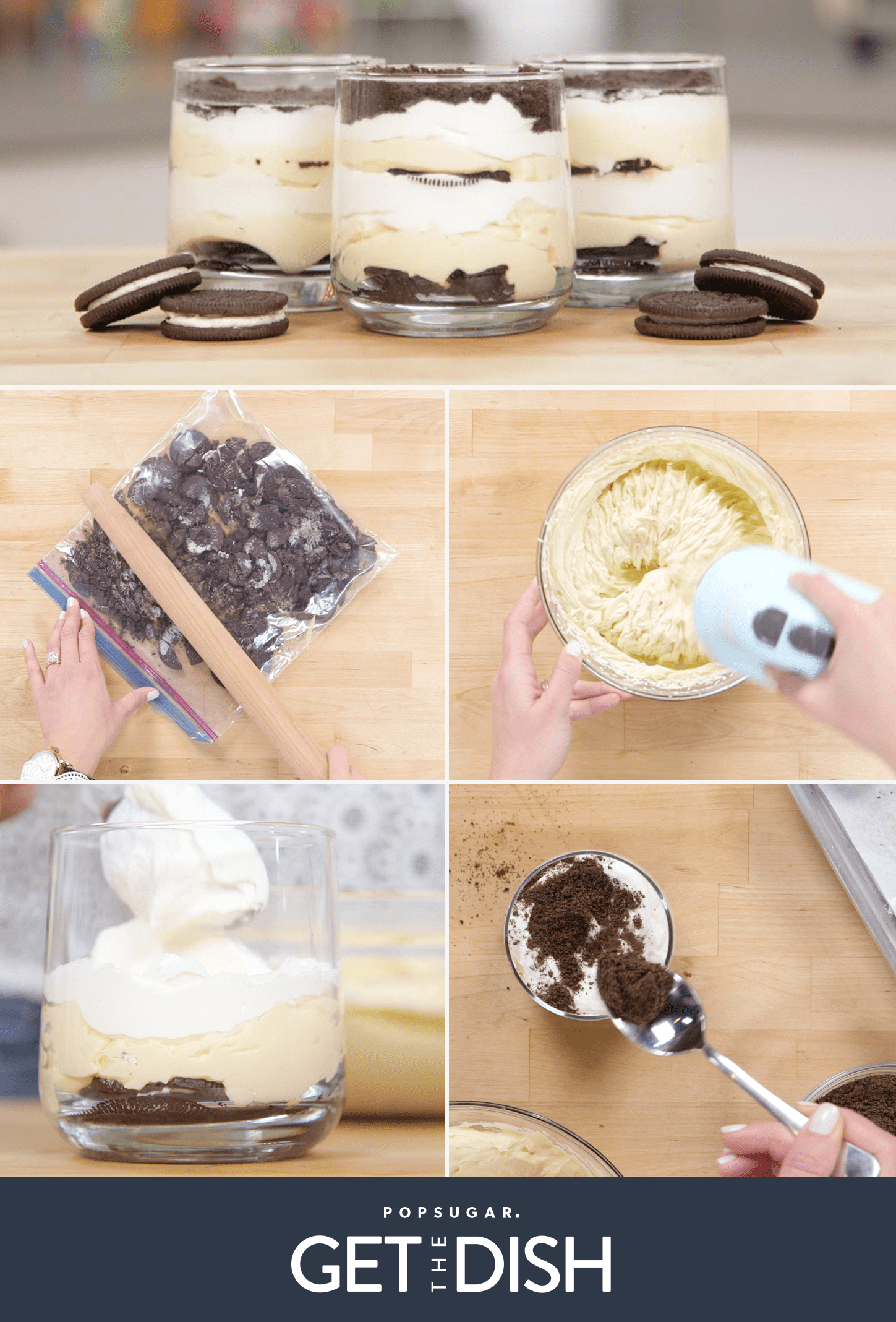 McDonald's-Inspired Oreo Tiramisu
Kevin Smith, POPSUGAR Food
Ingredients
For filling:
6 egg yolks
1/2 cup sugar
1/3 cup milk
2 1/2 tablespoons rum extract
1/4 cup chocolate sandwich cookie cream (from about 20-24 cookies)
2 cups mascarpone
For cookie layer:
6 tablespoons boiling water
1/2 teaspoon instant espresso powder
1 tablespoon rum extract
24 chocolate sandwich cookies
Topping:
1 1/2 cups heavy cream
1 1/2 teaspoons vanilla extract
3 tablespoons sugar
Crumbs from 20 chocolate sandwich cookies
Directions
Filling: In a bowl, whisk together the egg yolks and sugar until well blended. Add in the milk and rum extract, whisking until fully incorporated.
Pour mixture into a small saucepan and place over medium-high heat. Stir the mixture constantly and bring it to a slow boil. Continue cooking and stirring for 1 minute. The mixture will thicken into a custard. Transfer custard to a bowl and cover in plastic wrap, pressing the plastic directly against the custard. Refrigerate for about an hour.
Scrape the cream from 20-24 chocolate cookie sandwiches until you have 1/4 cup of the cream. Set aside both the cookies and the cream to be used later.
Retrieve chilled custard mixture and mix the mascarpone and cookie sandwich cream into the custard.
Cookie layer: In a small bowl, combine the espresso and boiling water, stirring until completely dissolved. Stir in rum extract. Allow coffee mixture to cool. Dip fully intact chocolate cookie sandwiches into the coffee mixture and place them onto a parchment-lined baking sheet.
Topping: Pour heavy cream, vanilla, and sugar into the bowl of a stand mixer. Whisk on high until stiff peaks form.
Crush some of the scraped chocolate cookie sandwiches into a powder and generously sprinkle on top. (You could use a food processor, or simply place several cookies in a sealed plastic bag and roll over it with a rolling pin.)
To assemble: Cover the bottom of 4 small bowls with a single layer of chocolate cookie sandwiches (you'll need to break some in half to achieve full coverage).
Spread half of the mascarpone custard mixture over the cookies. Then, layer in half of your whipped cream. Add another layer of coffee-dipped cookies, followed by the remaining custard, then the remaining whipped cream.
Spread a generous amount of chocolate cookie crumbs on top of the whipped topping. Enjoy immediately!
Information
Category

Desserts

Yield

4 servings
Image Source: POPSUGAR Photography / Kyle Hartman