Mermaid Fudge
From Megan Lutz, POPSUGAR Food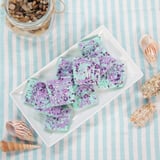 Ingredients
3 cups white chocolate chips
1 (14-ounce) can sweetened condensed milk
Teal food coloring
Purple food coloring
Sprinkles
Directions
Spray an 8-inch baking pan with nonstick cooking spray and set aside.
Fill a large saucepan with an inch of water and place a large heatproof bowl on top. Add the white chocolate chips and sweetened condensed milk and heat on medium, stirring occasionally, until the chocolate is smooth.
Separate 1/2 cup of the melted fudge into a separate large heatproof bowl and set aside. Fold teal food coloring into the large batch of fudge until completely mixed, then pour into the baking pan.
Place the bowl with the remaining fudge on top of the saucepan and fold in the purple food coloring. Make sure the fudge has melted enough to have a smooth consistency.
Pour the purple fudge in ribbons across the top of the teal fudge, avoiding large clumps. Working quickly, use a knife or skewer to swirl the fudge together and add desired sprinkles. Let cool completely and cut into squares.
Information
Category

Desserts, Chocolate

Yield

9 servings