Miso Hummus Recipe
This Hummus Recipe Uses 2 Secret Ingredients You'll Never Guess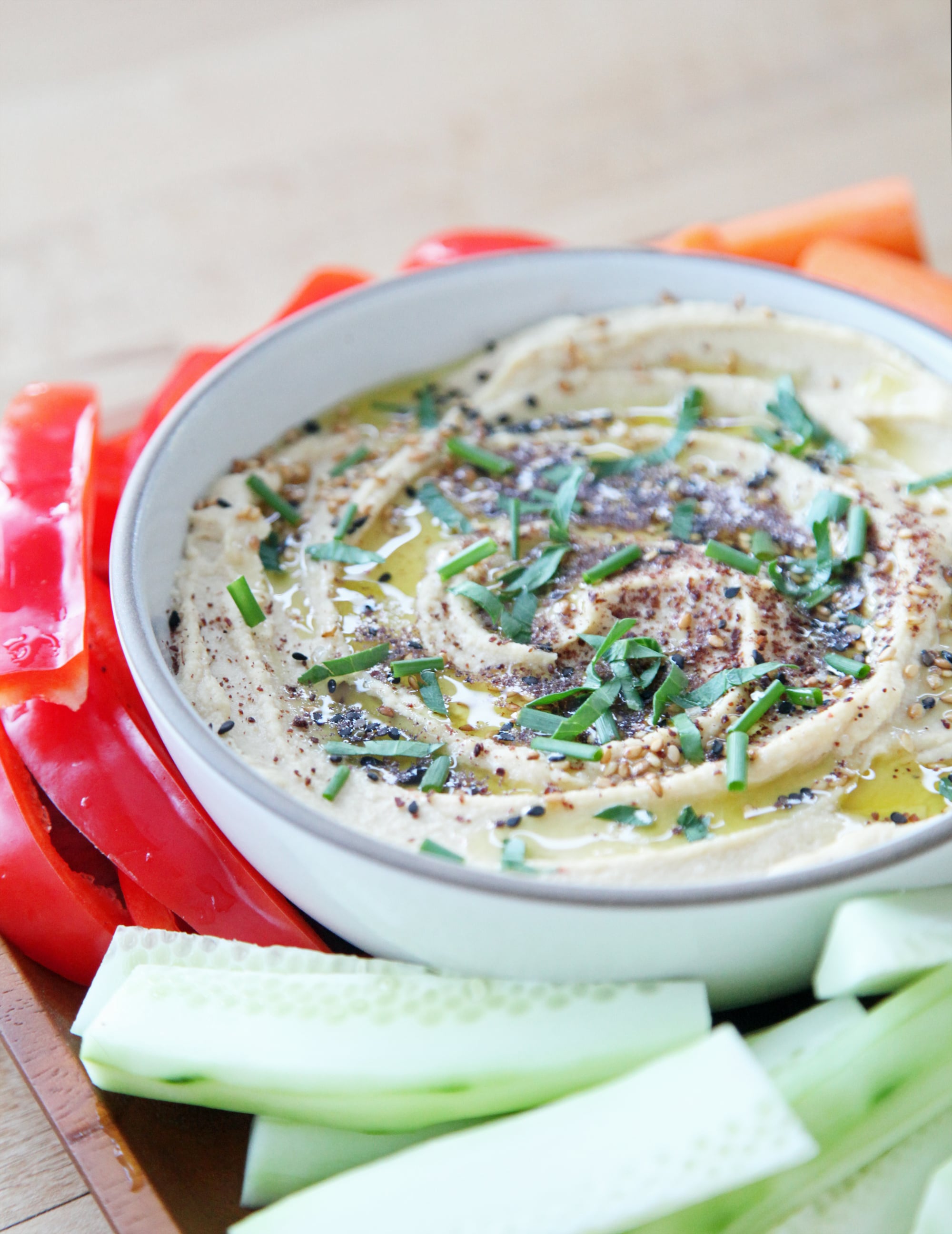 Image source: POPSUGAR Photography / Nicole Perry
Unlike roasted-garlic- or beet-based variations of hummus, this update to the classic Mediterranean chickpea dip doesn't shout "I'm different"; instead, it whispers. Subtly earthy and tangy, it invites you to dip and then dip again, trying to pin down exactly what gives it its subtle twist.
Image source: POPSUGAR Photography / Nicole Perry
An otherwise traditional recipe, this ingenious spin from Tara O'Brady's Seven Spoons gets its addictive flavor from the judicious additions of white miso and almonds. Additionally, O'Brady's technique aerates it into the fluffy hummus of your dreams. Serve it with naan as the author suggests, or for something a bit lighter, pair it with crudité; either way, give this recipe a shot.
Cover photograph copyright © 2015 by Tara O'Brady.
Hummus With White Miso
Reprinted with permission from Seven Spoons, by Tara O'Brady, copyright © 2015, published by Ten Speed Press, an imprint of Penguin Random House LLC.
Notes
I am mad for the combination of white (shiro) miso and tahini. The unapologetic salinity and fermented, umami-rich edge of the miso teases the sesame paste's mild, rich roundness into standing upright, while the tahini in turn balances out the miso's oomph. I love nothing more than this spread, flamboyant with garnishes, with some warm naan, and a cold, cold glass of white wine. That's my idea of cocktail hour.
Misos will vary in intensity among brands, so the amount may need to be adjusted accordingly.
Editor's notes: A scant 1/4 cup almond meal can be substituted for the blanched almonds (no need to grind the almond meal further). For smoother hummus, peel the chickpeas before adding to the food processor.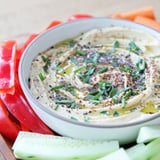 Ingredients
1/4 cup (60 grams) blanched almonds
2 cups (450 grams) cooked chickpeas or 1 (15-ounce/425 grams) can
1/4 cup (60 grams) well-stirred tahini
1/4 cup (60 grams) white (shiro) miso
2 cloves garlic, smashed with the side of a knife
1/4 teaspoon crushed red pepper flakes
Juice from 1/2 lemon, approximately 2 tablespoons, plus more as needed
About 1/2 cup (120 milliliters) ice water
Fine-grain sea salt and freshly ground black pepper
Toasted sesame oil (optional)
Serving options:
Extra-virgin olive oil
Flaky sea salt
Coriander seeds or cumin seeds, roasted and cracked
Ground sumac or za'atar
Toasted sesame seeds, white or black, or pine nuts
Minced fresh flat-leaf parsley and chives
Assorted sprouts (such as mung bean, broccoli, alfalfa)
Fried shallots
Directions
In a food processor fitted with the metal blade, process the almonds into a fine meal. Add the chickpeas and run the machine again, stopping and scraping down the sides occasionally, until the beans are crumbly and light. Pour in the tahini, miso, garlic, red pepper flakes, and lemon juice. Blend again for 2 minutes or so, then scrape down the sides of the machine. Switch on the motor and start drizzling in enough water so that the hummus billows up, aerated and fluffy. Depending on the beans, you may not use all the water, or you might need more. Let the machine go for 2-3 minutes after the consistency seems right. Taste and check for seasoning. For a roasted accent, drip in some toasted sesame oil.
Let the hummus sit for 30 minutes at room temperature before serving, or refrigerate in a covered container for up to 3 days.
Serve with the garnishes of your choosing.
Information
Category

Side Dishes

Yield

About 2 1/2 cups hummus
Image Source: POPSUGAR Photography / Nicole Perry