Momofuku Milk Bar's Compost Cookie Recipe
If The Cookie Monster Has A Holy Grail, These Compost Cookies Are It
The creator of birthday cake truffles, crack pie, cereal milk, and german chocolate jimbo cake, Christina Tosi is an undisputed pastry genius. Compost cookies, another iconic recipe of hers are made with pretty much every hit from the baking and snack aisle — potato chips, graham cracker crumbs, butterscotch chips, and oats, for starters — and are completely addictive. It's a recipe worth making once, as written, and then trying it out with your favorite combination of sweet and salty elements.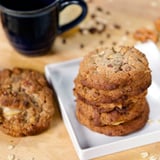 Ingredients
Graham Cracker Crust:
1 1/2 cups graham cracker crumbs
1/4 cup milk powder
2 tablespoons sugar
3/4 teaspoon kosher salt
4 tablespoons butter, melted
1/4 cup heavy cream
Cookies:
16 tablespoons butter, room temperature
1 cup granulated sugar
2/3 cup light brown sugar
2 tablespoons glucose or corn syrup
1 egg
1/2 teaspoon vanilla extract
1 1/3 cups flour
1/2 teaspoon baking powder
1/4 teaspoon baking soda
1 teaspoon salt
3/4 cup mini chocolate chips
1/2 cup mini butterscotch chips
1/2 cup graham cracker crust
1/3 cup old-fashioned rolled oats
2 1/2 teaspoons ground coffee
2 cups potato chips
1 cup mini pretzels
Directions
Make the graham cracker crust: In a bowl mix together graham cracker crumbs, milk powder, sugar, and salt. Set aside.
Whisk together melted butter and heavy cream and then add to dry ingredients and keep mixing until incorporated. Extra crust can be stored for 1 week at room temperature or up to 1 month wrapped tightly in the refrigerator or freezer.
Make the cookies: In a stand mixer combine butter, sugar, light brown sugar, and glucose on medium-high for 2 to 3 minutes. Scrape down the sides of the bowl as needed and add egg and vanilla extract. Keep mixing for 7 to 8 minutes. Reduce speed to low and add the flour, baking powder, baking soda, and salt. Mix until the dough just comes together, about a minute, and scrape down the sides of the bowl as needed. Still on low speed add the chocolate chips, butterscotch chips, graham cracker crust, oats, and coffee and mix until incorporated. Add the potato chips and pretzels last and be careful to not over mix or break up the pretzels or potato chips too much.
Portion out dough onto a parchment-lined baking sheet in 2 ounce balls. Wrap sheet pan tightly in plastic wrap and refrigerate for at least 1 hour or up to 1 week before baking.
Preheat oven to 375°F. Line a half sheet pan with parchment or a silicon baking mat.
Arrange chilled dough a minimum of 4 inches apart on the prepped half sheet pan. Bake for 18 minutes, or until the cookies have spread and are faintly browned at the edges.
Cool cookies completely on the pan before transferring to a plate or airtight container. At room temperature the cookies will keep for 5 days or up to 1 month in the freezer.
Information
Category

Desserts, Cookies

Yield

12 servings

Total Time

5 hours, 59 minutes, 59 seconds