Nutella Burger Recipe | Video
Nutella Burgers For Dessert? Why, Yes!
You've tried classic burgers and all their ilk — brie and beef, lamb, turkey, and maybe even a ramen-bunned masterpiece — but have you ever had a burger for dessert? Now you can with the Nutella burger, a sweet play on the American lunch and dinnertime staple. Watch the video to see how to make the patty, bun, and various fixings, then print out the recipe.
Nutella Burger
From POPSUGAR Food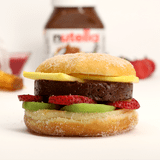 Ingredients
1/2 cup Nutella
2 tablespoons powdered sugar
2 sugared doughnuts, sliced in half
1 kiwi, peeled and thinly sliced
4 strawberries, thinly sliced
1 mango, thinly sliced
Directions
Using an electric mixer, beat together the Nutella and powdered sugar until smooth, thickened, and a little stiff. Line a half-sheet pan with waxed paper. Arrange two ring molds or round cookie cutters on the half-sheet pan and divide the Nutella between the two molds, spreading it smooth. Refrigerate for 20 minutes, or until firm.
To assemble the burger, layer in this order: the bottom doughnut "bun," kiwi slices, strawberry slices, Nutella patty, mango slices, and the top doughnut "bun."
Information
Category

Doughnuts

Yield

Serves 2
On Brandi: J.Crew
Image Source: POPSUGAR Photography