Orange Chicken Recipe
We Hacked P.F. Chang's Famous Orange Chicken
There's something that's just so comforting about eating a big bowl of orange chicken and warm rice. We've taken one of our favorites from P.F. Chang's and broken it down so that you can dig into this yummy dinner any day of the week. Tender bite-size pieces of chicken are glazed in a sauce that brings the sweetness, spice, and everything nice.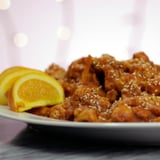 Ingredients
For the sauce:
1 cup tomato sauce
3 ounces orange juice
3 ounces chicken stock
1/4 cup brown sugar
2 teaspoons sriracha
1 tablespoon soy sauce
1 teaspoon chili garlic paste
1/4 teaspoon black pepper
For the chicken:
4 boneless, skinless chicken breasts, cut into 1/2-inch chunks
2 teaspoons garlic powder
2 teaspoons onion powder
2 teaspoons black pepper
2 teaspoons creole seasoning
1 teaspoon chili powder
3/4 cups flour
2 tablespoons cornstarch
4 tablespoons extra-virgin olive oil
1/4 cup orange peels
2 tablespoons minced garlic
Sesame seeds, for garnish
Directions
To make the sauce: Mix together the tomato sauce, orange juice, chicken stock, brown sugar, sriracha, soy sauce, chili garlic paste, and black pepper in a saucepan set over medium heat. Cook for a couple of minutes, or until the sauce has come together, and then keep warm.
To make the chicken: Add the chicken, garlic powder, onion powder, black pepper, creole seasoning, and chili powder to a large mixing bowl and toss to combine. Add flour and cornstarch and keep tossing the chicken until each piece is completely coated.
Add 3 tablespoons of olive oil to a wok set over medium heat. Once hot, add chicken and cook for 3 minutes on each side. You want to cook the chicken almost all the way through. Remove the chicken from the pan.
Wipe the pan out with a paper towel and add 1 tablespoon of olive oil, orange peel, and garlic. Cook for 1 minute to slightly cook the garlic and warm the orange peel. Add the sauce and chicken and bring the mixture to a boil. Cook for 1 minute, and then reduce the heat to medium-low and cook for an additional 8-10 minutes, stirring occasionally. Serve over warm rice and garnish with sesame seeds.
Information
Yield

Serves 4

Total Time

59 minutes, 59 seconds