Oreo Cinnamon Rolls
From Kevin Smith, POPSUGAR Food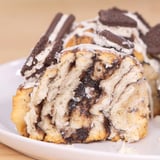 Ingredients
8 double-stuffed cookie sandwiches
1/3 cup sugar
1 can biscuit dough
1/2 stick butter, melted
Directions
Preheat oven to 375°F.
Separate the filling from 8 double-stuffed cookies and set aside. Crush the cookies into a plastic bag with a rolling pin until they resemble coarse crumbs. Pour cookie crumbs into a separate bowl and mix in the sugar. Set aside.
Open a can of biscuit dough and combine all of the biscuits into one large mass. Roll it out into a flat rectangle and cut into 4 even strips.
Brush the dough with the melted butter and coat evenly with the Oreo cookie and sugar mixture. Roll up each strip.
Place your Oreo rolls onto a greased pan covered with foil and cook for 25-30 minutes, then remove the foil and cook them uncovered for an additional 5-10 minutes, or until golden brown on top.
To make the glaze, microwave the Oreo filling in 10-second intervals until it resembles a glaze. Wait to make glaze until the Oreo rolls are completely done, as the glaze hardens quickly.
Drizzle the Oreo glaze across your cinnamon rolls and garnish with additional cookie crumbs, if desired. Enjoy!
Information
Category

Pastries

Yield

4 servings

Total Time

29 minutes, 59 seconds