Oreo Fidget Spinners
From Mona Zavosh, POPSUGAR Food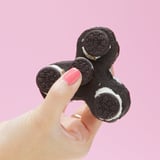 Ingredients
For the cookie:
1/2 cup organic nonhydrogenated all vegetable shortening
1/2 cup dark brown sugar
1 teaspoon vanilla extract
1/2 cup all-purpose flour
1/4 cup whole-wheat flour
1/4 cup organic cocoa powder
1/2 teaspoon baking powder
1/8 teaspoon salt
For the filling:
2 tablespoons organic all vegetable shortening
1/2 cup plus 1 tablespoon powdered sugar
1 teaspoon unsweetened vanilla almond milk
1 teaspoon vanilla extract
To assemble:
1/4 cup melted vegan caramel
12 mini sandwich cookies
2 mini breadsticks
Fidget spinner template
Directions
Preheat the oven to 350°F.
Add the shortening, brown sugar, and vanilla to the bowl of a stand mixer and beat for a few minutes until fully combined. In a separate bowl, sift together the flours, cocoa powder, baking powder, and salt. Press any lumps through the sieve, then whisk the ingredients together. Add the dry ingredients to the creamed shortening and brown sugar mixture and mix on low until the dough comes together. Transfer the dough onto a cutting board, flatten into a disc, and wrap the dough in plastic wrap. Refrigerate for 20 minutes.
Once the dough has chilled, place it between two sheets of parchment, then roll it out to 1/4-inch thickness. Place your spinner template on the rolled-out dough and use a craft knife to cut out 8 spinners. Use a 4-point pastry tip to cut out the center of each spinner. Using an offset spatula, transfer the spinners to a parchment-lined baking sheet and chill once more until the dough is firm to the touch, about 10-15 minutes.
Once the cookies are firm to the touch, bake for 25 minutes. Remove from the oven and allow the cookies to cool completely on the baking sheet.
While the cookies bake, make the filling. Add the filling ingredients to a mixing bowl and beat with an electric mixer until creamy. Transfer to a piping bag and set aside.
Cut the breadsticks into 4 (1-inch) pieces.
Separate the mini sandwich cookies and scrape off the cream filling.
Dip the breadsticks into the melted caramel, then attach to the flat side of the mini sandwich cookies. Allow the caramel to set up for a few minutes.
Cut off the tip of the zip-top bag and pipe the filling onto the flat side of the spinner cookie, then top with the other spinner cookie. Pipe three circles on top of the cookie and attach the mini sandwich cookie halves. Set aside for a few minutes to allow the filling to firm up a bit.
Once the filling and caramel have set up, run the breadstick through the center of the spinner. Top with a small dab of caramel and fix the last mini sandwich cookie half to the top of the breadstick. Allow the cookie to set for a few more minutes before you start spinning. Spin, spin, spin away!
Information
Category

Desserts, Cookies

Yield

4 fidget spinners