Oreo-Stuffed Funfetti Cupcakes Recipe
This Dessert Doesn't Make You Choose Between Cake and Cookies
Here's a tough question: cake or cookies? Thankfully you don't need to make that decision anymore, as we're putting Birthday Cake Oreos inside Funfetti cupcakes! Do we have your attention yet? Top it all off with a vanilla buttercream and as many sprinkles as your heart desires, and you'll have the cutest cupcakes yet.
Oreo-Stuffed Funfetti Cupcakes
From Brandi Milloy, POPSUGAR Food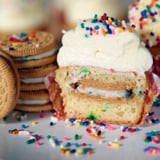 Ingredients
For the cupcakes:
3 large eggs
1/3 cup neutral oil, such as canola
1 cup water
1 19-ounce box Pillsbury Funfetti cake mix
16 Nabisco Golden Birthday Cake Oreos
For the frosting:
1 cup butter, at room temperature
3 1/2 cups powdered sugar
1 teaspoon milk
Pinch of salt
1 teaspoon vanilla extract
Rainbow sprinkles
Directions
Preheat oven to 350ºF. Line 2 muffin tins with cupcake wrappers, filling 16 of the wells.
Make the cupcakes: In a large mixing bowl, whisk together the eggs, oil, and water until smooth. Add the cake mix, and whisk until combined.
Fill each of the lined cupcake wells 1/3 of the way full with the batter. Add 1 Oreo into the middle of each well, and top with more batter until the well is 2/3 of the way full. Repeat until all the Oreos are gone.
Bake cupcakes for 10 to 15 minutes or until a toothpick inserted into the center of the cupcake comes out clean. Cool on a wire rack.
Make the frosting: In a stand mixer, cream together the room-temperature butter and powdered sugar until light, fluffy, and smooth. Add milk, a pinch of salt, and vanilla extract, and continue mixing for 3 to 4 minutes or until the frosting is completely mixed.
Place frosting into a piping bag, and pipe onto each cupcake. Garnish with sprinkles.
Information
Category

Desserts, Cupcakes

Yield

16 cupcakes