Parmigiana
Lay Off the Pasta Lasagne and Try This Eggplant Alternative Instead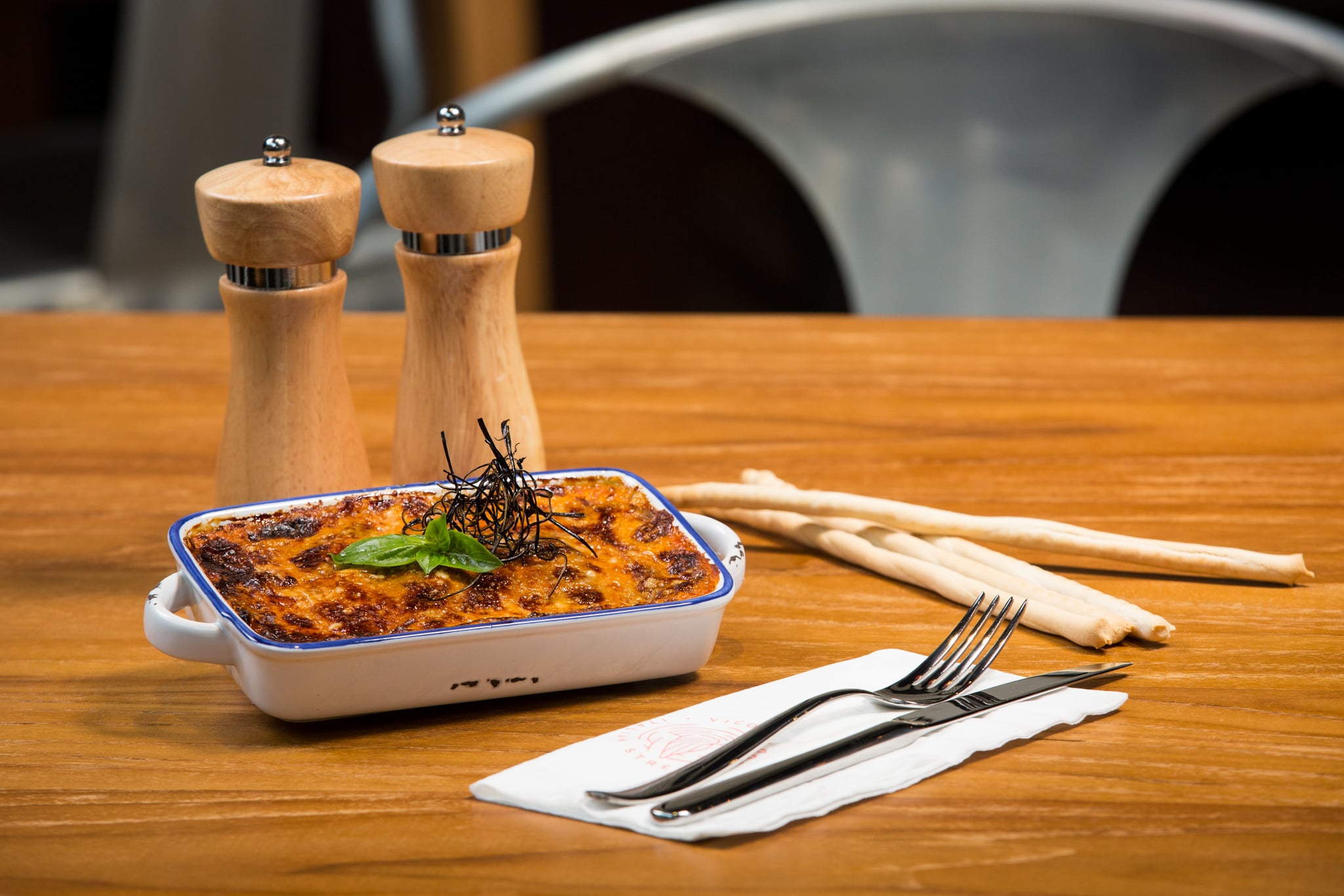 Overdone it with the pasta lately? If you love Italian food and still want your fix without all the carbs, try baking this eggplant lasagne at home using Dubai restaurant, Vicolo's recipe.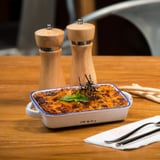 Ingredients
2lbs (2 medium-sized) Eggplant
Salt
4tbsp Extra-virgin olive oil
100g Flour
2 cups Basic tomato sauce, recipe follows
1lb ball Fresh mozzarella, thinly sliced
1/2 cup Freshly grated Parmigiano-Reggiano
FOR THE TOMATO SAUCE:
1/4 cup Extra-virgin olive oil
1 Spanish onion, chopped into 1/4-inch dice
4 Cloves garlic, peeled and thinly sliced
3 tbsp Fresh thyme leaves, chopped
1/2 Medium carrot, finely shredded
2 (28-ounce) cans Peeled whole tomatoes
Salt
Directions
Wash and towel dry the eggplant. Slice the eggplant horizontally about 1/4-inch thick.
Place the slices in a large colander, sprinkle with salt and set aside to rest about 30 minutes.
Drain and rinse the eggplant and dry on towels.
In a sauté pan, heat the extra-virgin olive oil. Press the drained eggplant pieces into the flour and sauté until light golden brown on both sides.
Repeat the process with all of the pieces.
On a cookie sheet lay out the 4 largest pieces of eggplant. Place 2 tablespoons of tomato sauce over each piece and place a thin slice of mozzarella on top of each.
Sprinkle with Parmigiano and top each with the smallest piece of eggplant, put the sauce on, then mozzarella.
Repeat the layering process until all the ingredients are used. Finish it by sprinkling Parmigiano on top.
Place the pan in the oven for about 15 minutes and bake until the top of each little stack is golden brown and bubbly.
FOR THE TOMATO SAUCE:
In a 3-quart saucepan, heat the olive oil over medium heat.
Add the onion and garlic and cook until soft and light golden brown, about 8 to 10 minutes.
Add the thyme and carrot and cook 5 minutes more until the carrot is quite soft.
Add the tomatoes and juice and bring to a boil, stirring often.
Lower the heat and simmer for 30 minutes until as thick as hot cereal.
Season with salt and serve.
Information
Category

Main Dishes

Cuisine

Italian

Yield

4

Total Time

1 hour, 9 minutes, 59 seconds